iDevAffiliate REVIEW

What is iDevAffiliate?
This cross platform affiliate commission and tracking software enables their users to manage the commissions and payout structure in a more easy and efficient way. They cover the payouts, the reporting of activities, the template marketing, billing, the shopping carts and a lot more. This allow them to set flat rates, percentage based, recurring, PPC, while allowing their users to set their own commission structure and payout. Users also has the option to set up 10 tier payout levels and up to a hundred primary. Their monthly subscription also includes a video training for affiliates to learn how to generate more revenue. They offer a cloud based solution and also an owned licensed type which gives flexibility and more options. Promote your business by using one of these platforms; OSI AFFILIATE SOFTWARE VS TAPFFILIATE VS REFERRALCANDY.
Benefits
iDevAffiliate software helps in extending the current sales force through affiliate members as well as businesses in order to grow sales, improve search engine optimization and increase traffic. Affiliate could also directly share from their accounts and make unlimited campaigns that has images and (#) hashtags. This software supports WordPress and could be integrated in the most seamless way with all the other membership platforms and shopping carts like Optimize press, WooCommerce, and others more. Grow your business with the help of OSI AFFILIATE VS GO AFF PRO.
They also offer features that an affiliate would be expecting from an affiliate tracking software that provides quality. They have a US based tech support, their interface is also stable and user friendly. They cover commissioning, marketing, as well as reporting which is also customizable through HTML and CSS templates, color schemes, language packs, and logos too. their fraud prevention covers a lot of things such as password encryption, commission account restriction, blocking of commissions and accounts, tracking expirations, and a lot more that helps lowering the chance of any fraud act.
Their users also have the ability to share with affiliates a lot of things like banners, HTML ads, page peels, text ads, emails, videos and others more. Users also have the ability to design their payout structure, they can choose to make it percentage based, flat rate, PPC, Pay per lead. They can recruit 10 tiers of affiliates which makes it flexible for businesses to manage their business more effectively. They also provide all the important information from their reporting tools to make sure their customers are ahead such as charts, print views, graphs, PDF/CSV/ and data reports on excel. The cloud plugin also has SEO links, Language packs, Social Media marketing, QR code, Geo targeting, Vanity Coupon, and a private set up.
Features
Percentage pay out and flat rate options
Commissions
PPC, Action based, and pay per lead
Coupon code commissions
Affiliate recruiting up to 10 tier
HTML/CSS templates
Marketing
Social media sharing
Vimeo and YouTube sharing
QR codes and banners
Email templates
Text Ads
Page Peels
Lightboxes
Redundancy tracking
Tracking expiration that's adjustable
iDevAffiliate Pricing Plans:
Their Cloud is $39 per month
It has plugins
Unlimited affiliates
Unlimited Commissions
Unlimited traffic
Their Standard is $199 per month
It has no plugins
Unlimited affiliates
Unlimited Commissions
Unlimited traffic
Their Platinum is $299 per month
Unlimited affiliates
Unlimited Commissions
Unlimited traffic
Plugins like SEO links, language packs, private sign up and customizable file name
Their Black is $399 per month
Unlimited affiliates
Unlimited Commissions
Unlimited traffic
And all plugins
Getting started with Idev Affiliate
How to integrate your shopping cart:
On the header, click on cart integration.
From the cart integration header click on shopping cart integration wizard.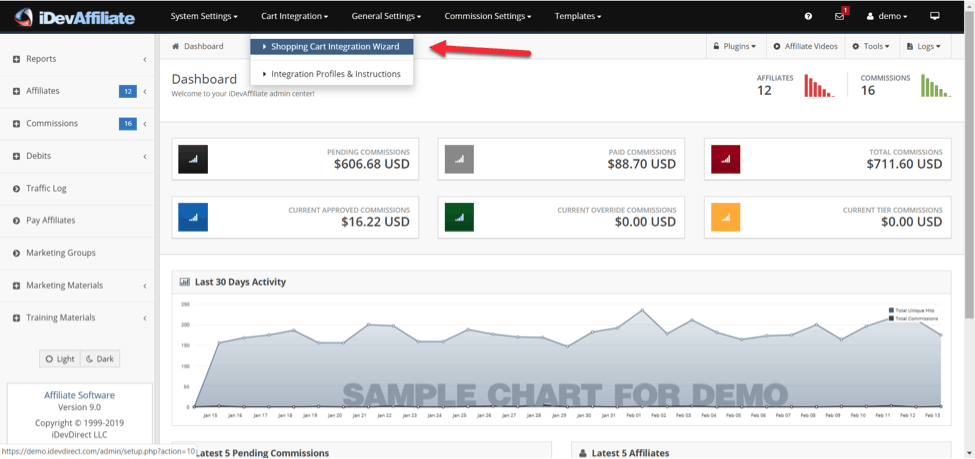 Choose your cart or your merchant from the drop down then click on continue to the next page. 
Depending on your shopping cart or merchant a button for the instructions would show saying "View Integration Instructions"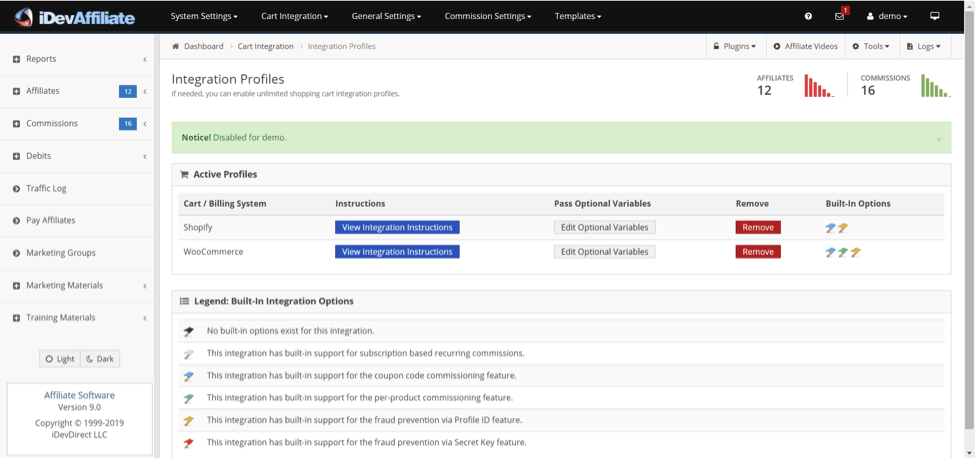 How to view affiliate status such as approved accounts, pending accounts, and declined accounts.
Click on Affiliates.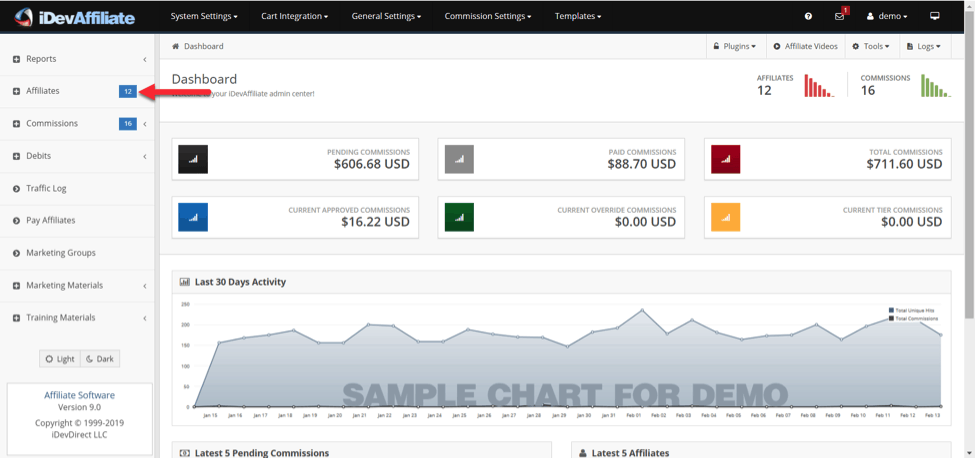 Clicked on Approved Accounts to view your affiliate account list where you would have access to manage account.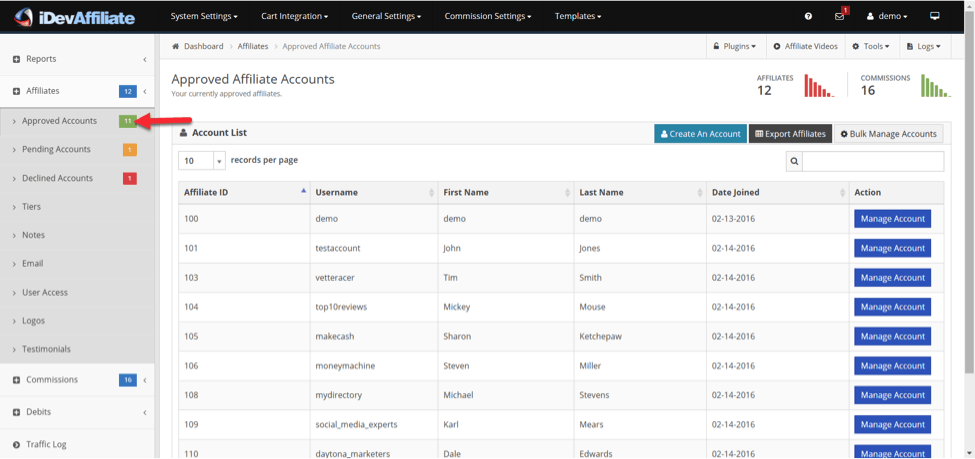 Click on pending accounts to view the accounts that are pending so you can manage or process the account.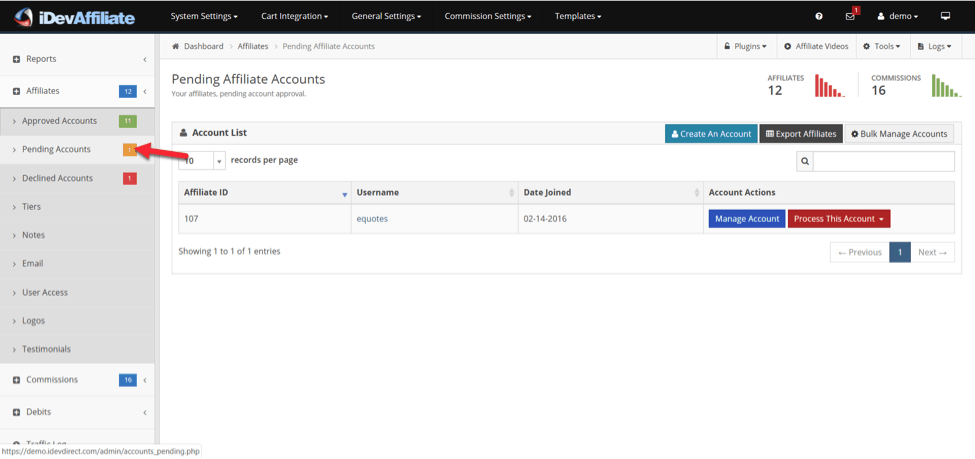 Click on declined accounts to reactivate the account, or permanently delete it.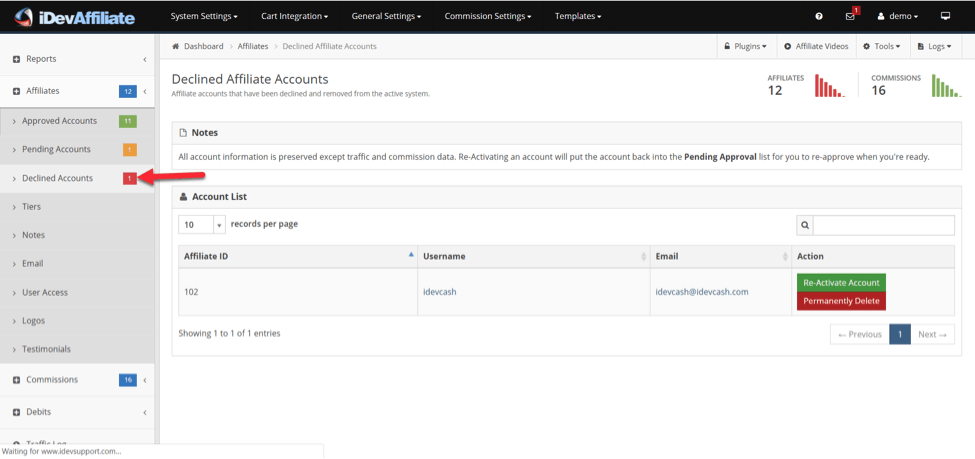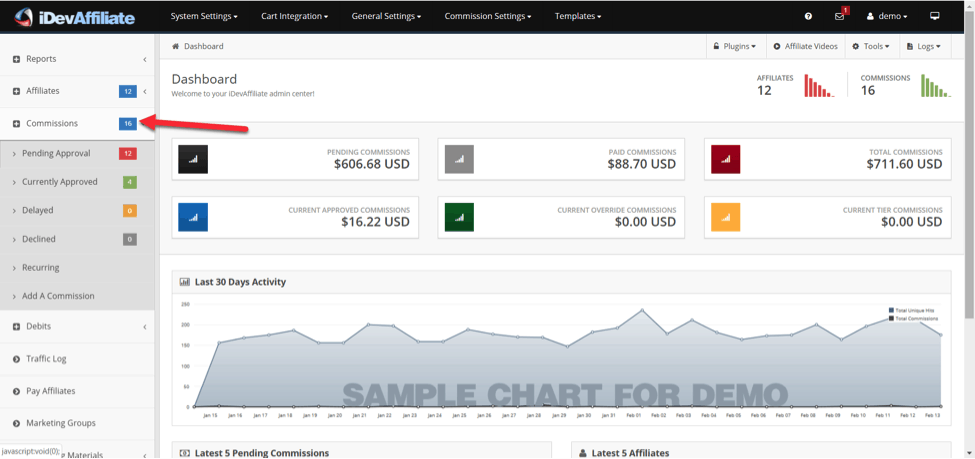 How to manage Commissions
To check the pending approval commissions click on the pending approval button from the  left panel. You have the option to select more than one and bulk approve or bulk decline.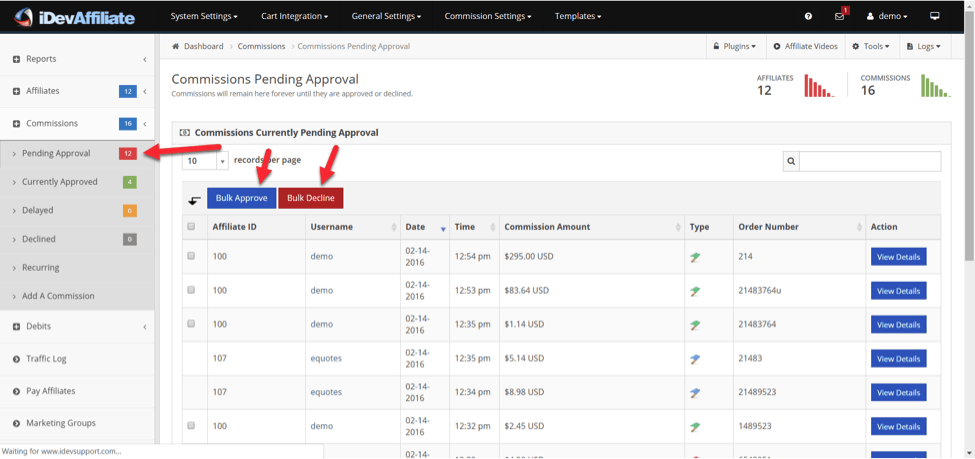 Click on Currently Approved to view the commissions that you have approved.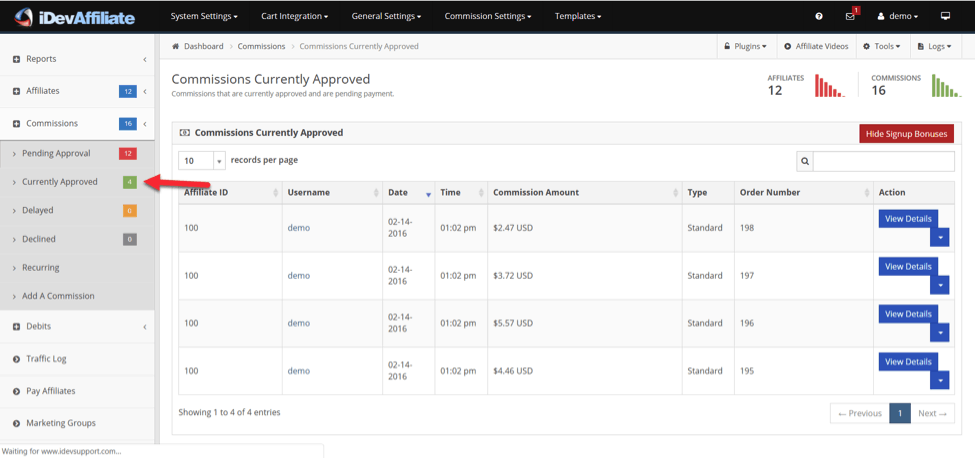 To check the delayed commissions click on delayed from the left panel.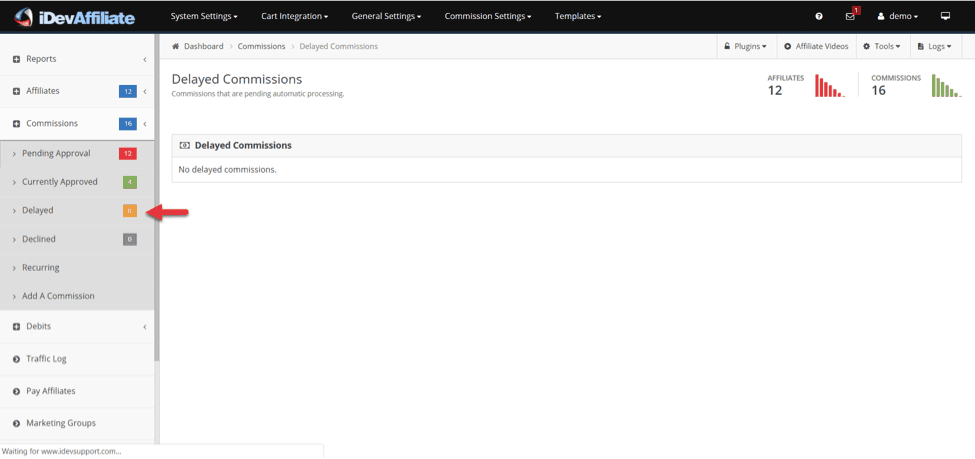 To view the commissions you have declined click on declined from the left panel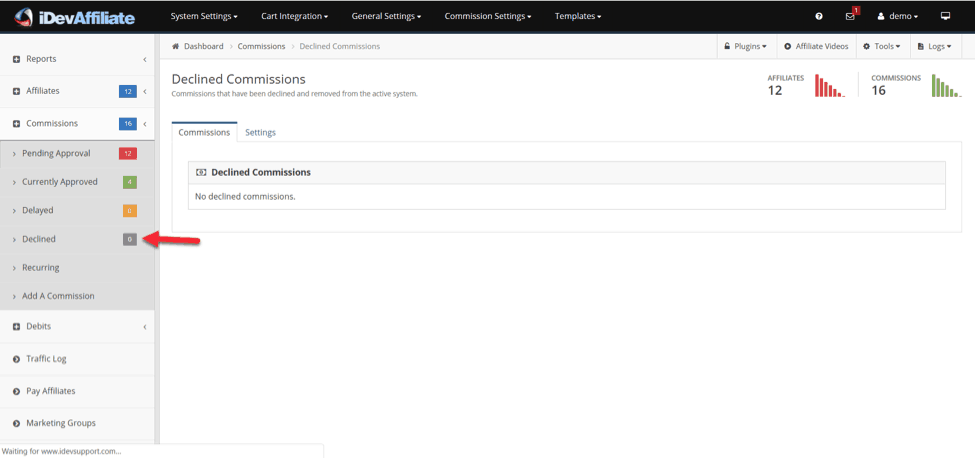 How to add a commission manually
Click on commissions from the left panel.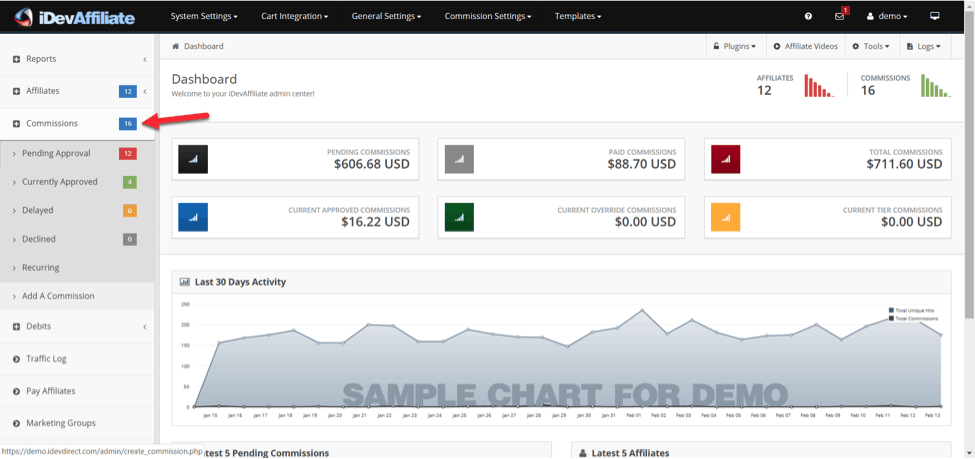 From the left panel click on Add a Commission, you can then enter the commission details such as the commission date, choose which affiliate to give it to, set the commission and sale amount and the order number if available. Click on create commission to create it.