ShareASale Review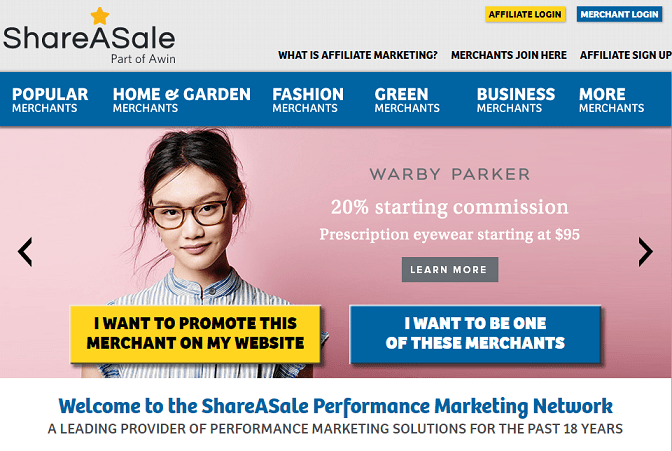 What is it ShareAsale?
ShareAsale is an accurate, efficient, and fast affiliate marketing network. They support merchants and affiliates that aim to boost their incomes. They can help you whether you're located domestically or internationally. ShareAsale assures you that they will help you grow. They have a support team that has gain notice as affiliates and vendors commend them for their amazing assistance on every aspect. Users of ShareAsale would be able to track and organize clicks in real time, this allows better productivity and efficiency in when it comes to handling affiliate tools such as links and earning opportunities.
Why Use it
To those people who are new to affiliate marketing, ShareAsale has a lot of resources offered especially for you. These resources will help you boost your skills and trade. It will also help you in maximizing your use of the website so you could increase your earning and widen your products reach. They also provide complimentary and specialized reports that would show vendors the important parts of business ventures that become successful. When you identify points that are critical, you can also optimize them better so you could achieve your goals.
If you are starting, SHareASale will give you a nudge towards the right path. They even offer recommendations that might match the criteria of the vendor. As I have mentioned earlier, they come in many features and one of those is the click tracking monitor that alerts the users in real time whenever a banner or a link has been clicked and a successful sale happens. This allow people to be aware about what is happening in their network and no update is ever missed. Affiliates as well as merchants are also given APIs to utilize so that they can pull up reports whenever needed. This allows them to have a deeper understanding about their own activities.
How can you earn from ShareAsale?
There's more than 2,500 merchants on ShareASale and a little of everything such as offline companies, online, big name, little guy merchants and others. If you are a blogger there are some programs in there that come from people you might know. They promote Business2Blogger and StudioPress. It is also to create deep links and if on the merchants page you want to point to a specific page you can do that easily. On some programs there are also pay per call. So if you're an affiliate that always get people to answer the phone compared to buying online then you might find that useful to you.
Who Uses ShareASale?
Both merchants and affiliate use this platform and both benefit from it. Merchants simply use it to track, implement, and manage their referral program. Affiliates use it to look for products that they could promote and earn commissions from but they will have to use their own site, blog, SEO, Email, or whatever means they have to promote.