OSI Affiliate Software vs Tapffiliate vs ReferralCandy
Choosing between Tapffiliate, ReferralCandy, and OSI Affiliate Software can be overwhelming. All three have their pros and cons, but which one is the best for your business? In this post, we'll break down what each platform offers so you can make the best decision for your company. Let's get started!
OSI Affiliate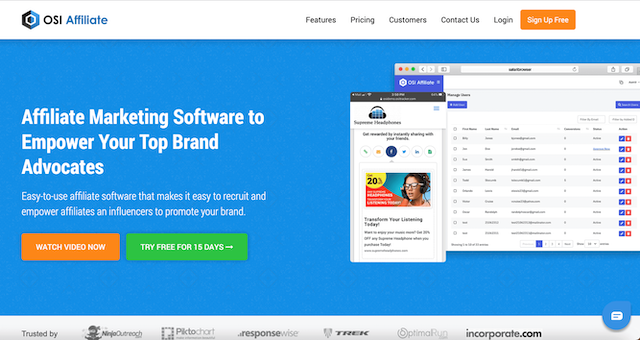 OSI Affiliate is a company that provides affiliate marketing services. Affiliate marketing is a type of marketing in which a company partners with another company or individual to promote its products or services. The affiliate company or individual receives a commission in return for promoting the products or services.
OSI Affiliate has been in business for years and has helped thousands of companies and individuals earn commissions through affiliate marketing programs. The company offers various services, including pay-per-click advertising, email marketing, and lead generation. OSI Affiliate also provides tools and resources to help affiliates succeed in their affiliate marketing campaigns.
OSI Affiliate Usage
Merchants use OSI Affiliate Software to run their affiliate programs. Merchants can create and manage their affiliates, pay commissions, and track conversions using the software. Affiliates use the software to sign up for merchant affiliate programs, view commission details, and track conversion information. OSI Affiliate Software is a comprehensive solution that helps merchants run successful affiliate programs. The software includes everything merchants need to start, including tools for managing affiliates and tracking conversions. Merchants can also pay commissions using the software, making it easy to manage all aspects of their affiliate program in one place. The software is also scalable to grow with a merchant's business. There are no limits on the number of affiliates or the amount of traffic you can have.
Using OSI Affiliate For Affiliate Marketing
If you're looking to get started in affiliate marketing, using OSI Affiliate is a great way to do it. Here's how to use OSI Affiliate for affiliate marketing:
First, sign up for an account with OSI Affiliate. You'll need to provide some basic information about yourself and your website. Once you're registered, you can add affiliate links to your site.
Log into your OSI Affiliate account and click on the "Add Links" tab to add an affiliate link. You can search for products or services that you want to promote. Once you find a good match, please copy the link code and paste it into your website.
Using OSI Affiliates For Referral Marketing
OSI Affiliate is an excellent platform for referral marketing. You can quickly create customized referral links and track your referrals and commissions with its easy-to-use interface.
Create an account and then log in to the dashboard to get started. Click on "Create a New Link" to generate a custom referral link. You can then specify the destination URL, commission rate, and other settings.
Once you've created your referral link, you can share it with your friends and followers on social media or by email. When someone clicks on your link and makes a purchase, you'll earn a commission on the sale.
Advantages Of OSI Affiliate
There are plenty of advantages to signing up for the OSI Affiliate marketing program. First and foremost, it's a great way to earn commission on sales of products that you promote. As an affiliate, you'll get a unique link that you can share with your friends and followers. When someone clicks on your link and makes a purchase, you'll earn a commission on the sale.
Another great advantage of the OSI Affiliate program is that it's open to everyone. Whether you're a small blogger or a large corporation, you can sign up and start promoting products right away. There's no approval process or limit to the number of people who can join, so anyone who wants to start earning commissions can do so.
Disadvantages of OSI Affiliate
There are a few potential disadvantages of running an OSI Affiliate business:
Affiliate marketing can be pretty competitive, and it can be challenging to stand out from the crowd unless you have a niche market or unique selling proposition.
As with any small business, there is always the risk that your business could fail or not achieve the level of success that you hope for.
While many people are happy to promote products and services for free in exchange for a commission on sales, some view affiliate marketing as simply a way to make money; they may be less likely to focus on promoting high-quality products and services.
Tapffiliate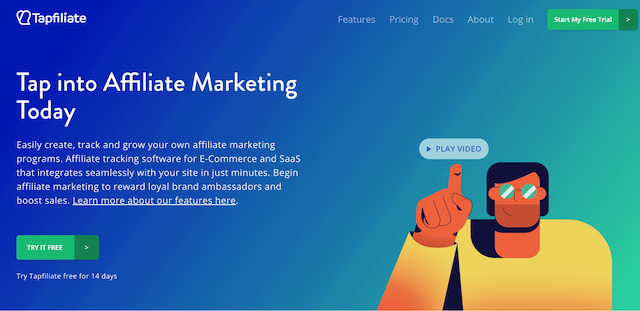 Tapffiliate is an affiliate marketing platform that helps businesses tap into the power of influencers and affiliates to drive sales. With Affiliate, companies can create and manage their affiliate program, track conversions and sales, and payout commissions. Tapffiliate also provides influencer marketing tools to help businesses connect with influencers who can promote their products or services.
Tapffiliate Usage
Tapffiliate is an affiliate marketing solution designed to help businesses grow their online presence. Tapffiliate can help companies reach new customers and increase sales by working with a network of high-quality affiliates. It allows businesses to use social media and other platforms to reach a larger audience and sell more products. Tapffiliate makes it easy to track sales and commissions, so companies can see which affiliates are performing well and adjust their strategies accordingly. Additionally, businesses can use Tapffiliate to create creative tracking links that stand out from the crowd. Overall, Tapffiliate is a potent tool that any company serious about affiliate marketing should be using.
Using Tapffiliate For Affiliate Marketing
There are a few different ways to use Tapfiliate for affiliate marketing. First, you can create short links from your site to specific products or pages on other sites. Any time someone clicks on one of these links and makes a purchase, you'll earn money.
Second, you can embed tracking code onto your website or blog. This code will keep track of any purchases made by people who reached your site through one of your links. Again, you'll earn a commission on these sales.
Finally, if you have a product that you'd like to promote through an affiliate program, Tapfiliate can help with that.
Using Tapffiliate For Referral Marketing
Tapffiliate is the perfect platform for running a successful referral marketing campaign. With Tapffiliate, you can quickly turn your customers into brand ambassadors who can spread the word about your products or services to a broader audience.
To get started with Tapffiliate, create an account and add your affiliates. You can manually add them one by one or import them from a CSV file. Once you have added your affiliates, you can set up campaigns and track their performance.
Advantages Of Tapffiliate
Tapffiliate is a great affiliate marketing tool that offers many advantages for both businesses and affiliates. Tapffiliate provides an easy-to-use interface for tracking clicks, sales, and conversions for businesses. It also integrates with many popular eCommerce platforms and CRMs. This makes it easy to keep track of your affiliate marketing efforts and see which campaigns are performing the best. As an affiliate, Tapffiliate offers a generous commission structure and solves many of the common problems that afflict other affiliate programs (such as low conversion rates or slow payments). Overall, Tapffiliate is an excellent choice for businesses or individuals interested in affiliate marketing.
Disadvantages Of Tapffiliate 
There are a few potential disadvantages of using Tapffiliate for affiliate marketing. First, it lacks some features that other platforms have. For example, it doesn't have a built-in payment gateway, so you need to use a third-party provider. This can add some extra cost and complication to your affiliate program.
Secondly, Tapffiliate is relatively new and doesn't have the same level of name recognition as some of the other options out there. This can make it harder to recruit high-quality affiliates, as they may be hesitant to sign up for a platform that they're not familiar with.
Lastly, Tapffiliate's interface can be confusing and overwhelming at first glance.
ReferralCandy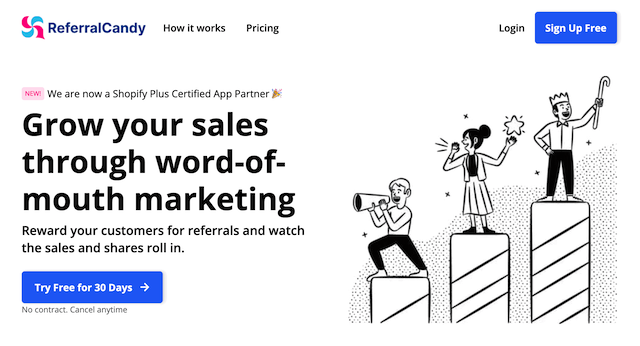 ReferralCandy is an affiliate marketing platform that enables businesses to reward customers for referrals. With ReferralCandy, companies can create and manage their referral programs quickly and easily, with no prior experience or technical knowledge required. Through ReferralCandy, businesses can provide customers with referral bonuses in discounts, store credit, or cash, which incentivizes them to promote your business to their friends and family. This helps you acquire new customers at a fraction of the cost of traditional marketing channels.
ReferralCandy Usage
ReferralCandy is an affiliate marketing tool that helps businesses track and reward customers for referring others to their products or services.
When someone signs up for a ReferralCandy account, they are given a unique referral code that they can share with their friends. When someone uses that referral code to sign up for a product or service, the business owner is notified and can award the referrer a gift, discount, or credit.
Using ReferralCandy For Affiliate Marketing
There are a few ways that you can use ReferralCandy for affiliate marketing:
You can give people a unique referral code to share with their friends, and then you'll pay them a commission on any sales that result from those referrals.
You can also create custom landing pages for your affiliates so that they can promote your products more efficiently.
And finally, you can set up automatic payments so that affiliates earn commissions automatically as soon as their referrals make a purchase.
Using ReferralCandy For Referral Marketing
ReferralCandy is also a referral marketing tool that helps businesses increase sales by rewarding customers for referrals. It provides a simple way to create custom referral campaigns, tracks referrals, and reward customers for referrals.
To use ReferralCandy:
Create a free account and add your business information.
Create a referral campaign and provide your campaign details.
Customize your rewards and set up your notification preferences.
Embed the ReferralCandy code on your website and start tracking referrals.
When someone purchases as a result of a referral, you'll receive a notification and can award the appropriate rewards.
Advantages Of ReferralCandy
There are many advantages to using ReferralCandy. The main advantage is that it allows you to track referrals and payouts in one place. This can save you a lot of time and effort, as you won't need to keep track of everything manually. Additionally, ReferralCandy provides real-time tracking to see how well your affiliate marketing campaign is performing instantly. Plus, ReferralCandy integrates with popular eCommerce platforms such as Shopify, making it easy to get started if you're already using one of these platforms for your online store. Overall, ReferralCandy is a powerful tool that can save you time and money while helping you grow your business.
Disadvantages Of ReferralCandy 
There are a few potential disadvantages of using ReferralCandy for affiliate marketing purposes. Firstly, if yourReferralCandy program is not well designed, it could be more trouble than it's worth. For example, if you incentivize customers to refer new customers who then make purchases that are significantly lower in value than the original purchase, you may lose money on the deal. Additionally, if customers figure out how to game the system and refer to fake or unsubscribed friends and family members, you could again end up red.
Another thing to remember is that even if ReferralCandy programs are done well and successfully boost your business, they can still take some time to get high commissions.
So, which is the best affiliate software for you and your business? It depends on what you're looking for. If you want a comprehensive platform that offers all the bells and whistles, then OSI Affiliate Software is probably your best bet. But if you're looking for something more straightforward with fewer features, Tapfiliate or ReferralCandy might be a better option. We recommend testing out a few different platforms to see which one works best for you and your team. Have you tried any of these affiliate software programs? Let us know in the comments below!