Best Referral Software for WooCommerce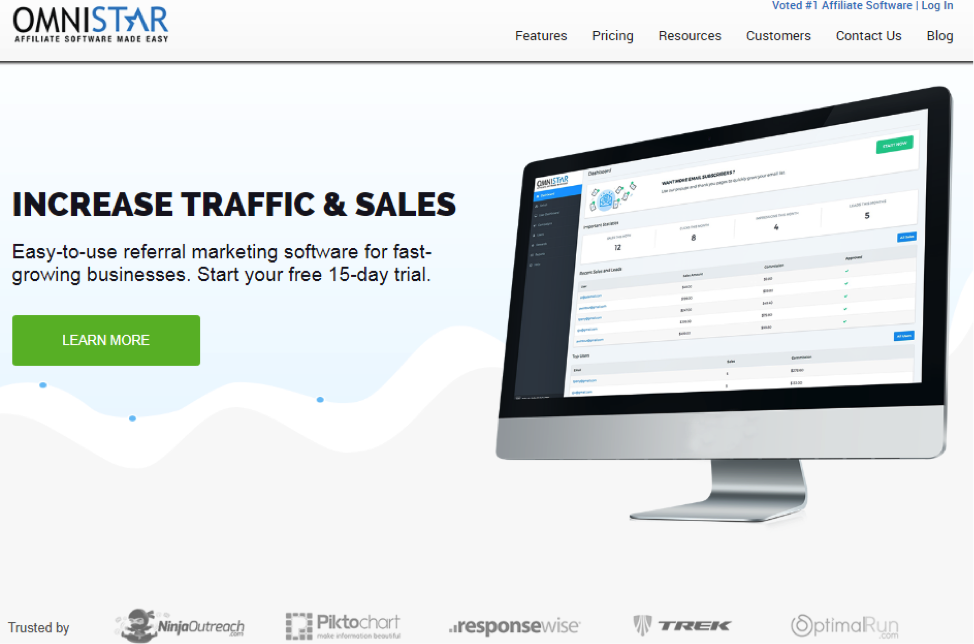 Businesses, organizations, entrepreneurs, or anyone who wants to increase sales and customer base would benefit from OSI Affiliate software. It doesn't matter if you're a beginner or an expert because you would definitely benefit from their tools, features, and simplicity. OSI Affiliate software was designed to cater companies of all size; they even have a lot of integrations to cater to different needs. Your affiliates and your self would not have any problem with running your referral program. This software is different from the others because it doesn't just have top of the line features, they aren't just affordable, but they also aim to show you the value of your resources; your existing customers.
When a person would want to be part of your referral program, all they have to do is put in their email address. OSI Affiliate Software also makes it possible to share to social media channels through the share button. Whenever an affiliate refers someone who makes a successful purchase, OSI Affiliate Software would track it automatically and would reward them according to what you set up. You could give different rewards such as commissions, gift cards, discounts, coupons, and a lot more. When you want to re-motivate your referral program members, this software also has a contest manager that allows you to create, run, and manage contests easily.
How To Promote Using Banners:
From your Admin Dashboard click on Referral Programs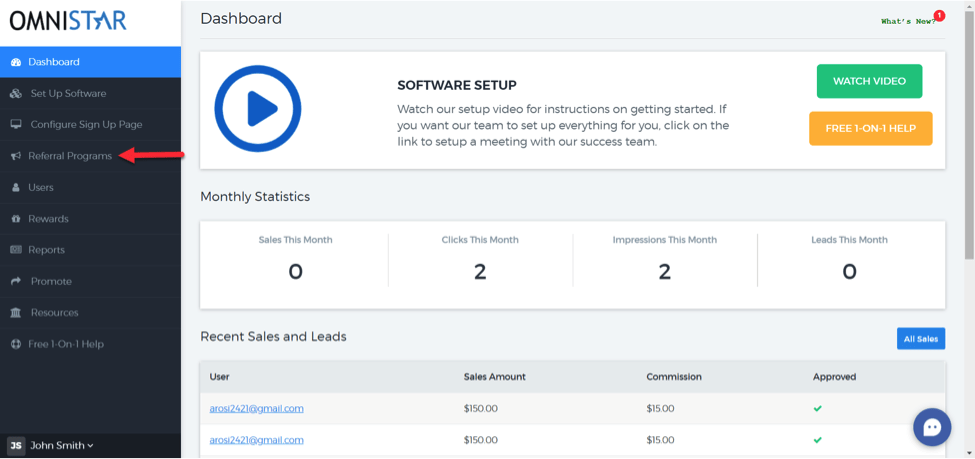 Then click on Promotional Settings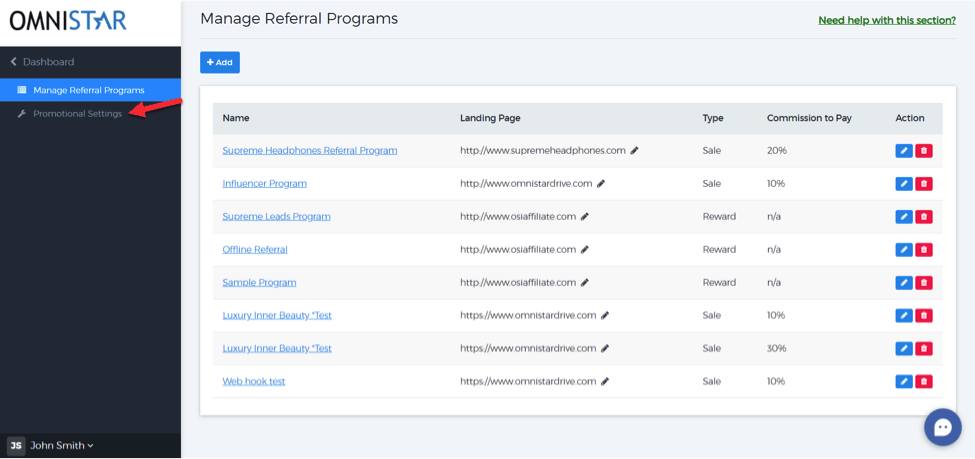 Then click on Banner Ads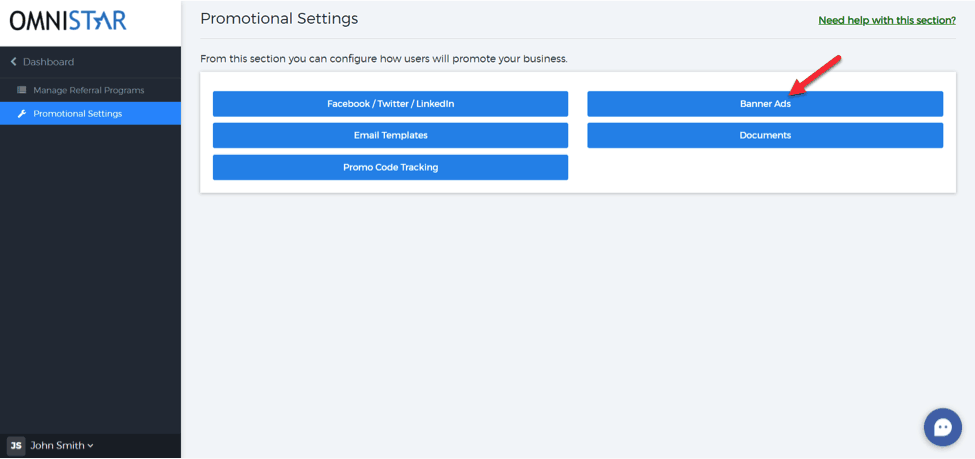 Now click on +Add Banner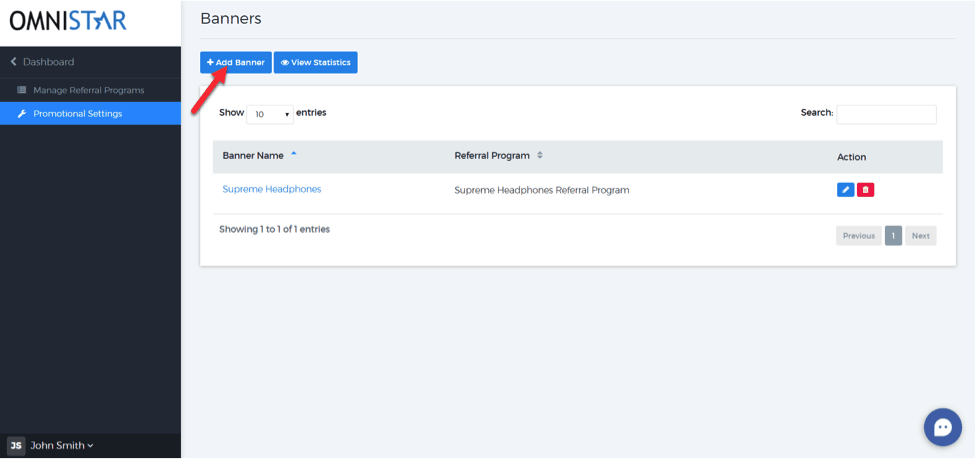 Fill out the banner name, choose which referral program it would be for, upload the banner and choose what type of banner it would be then once you're done click on Submit.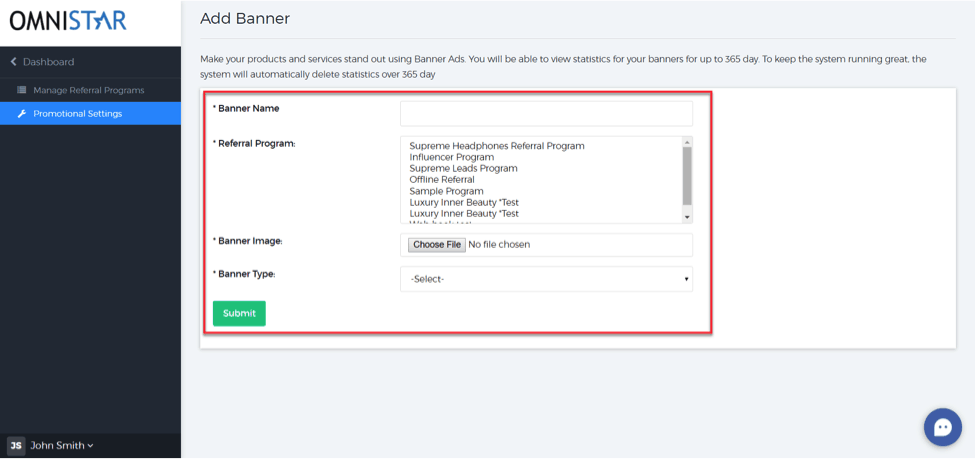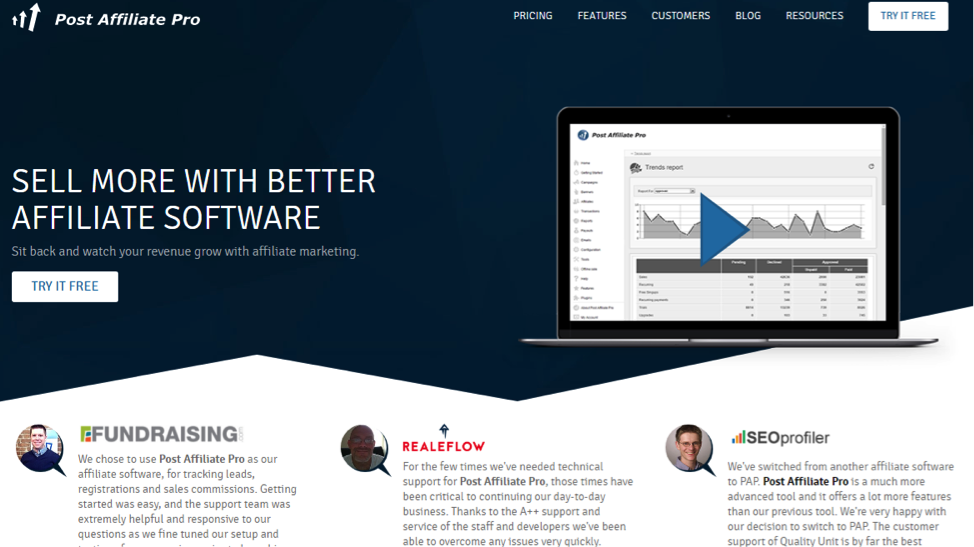 Post Affiliate Pro is an ecommerce and online store that monitors and tracks referral programs. A lot of businesses rely on affiliate programs to reach people that aren't in their range, they do this to increase their customer reach as well as their sales. Post Affiliate Pro allows you to manage your affiliate software hassle free and easier because it allows you to monitor everything as well as the release of payouts.
How to Promote Using Banners
From your Admin dashboard click on Banners and then click on Banners manager from the drop down.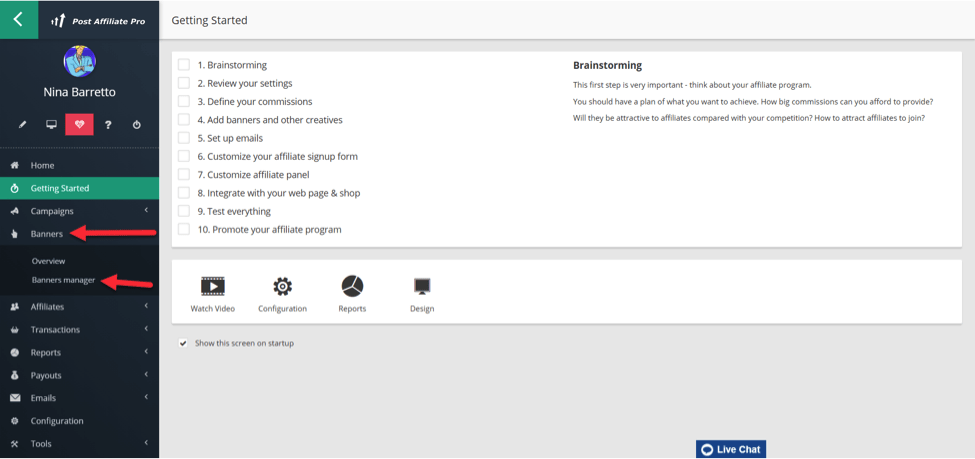 Click on "Add Banner"
Click on "Image Banner"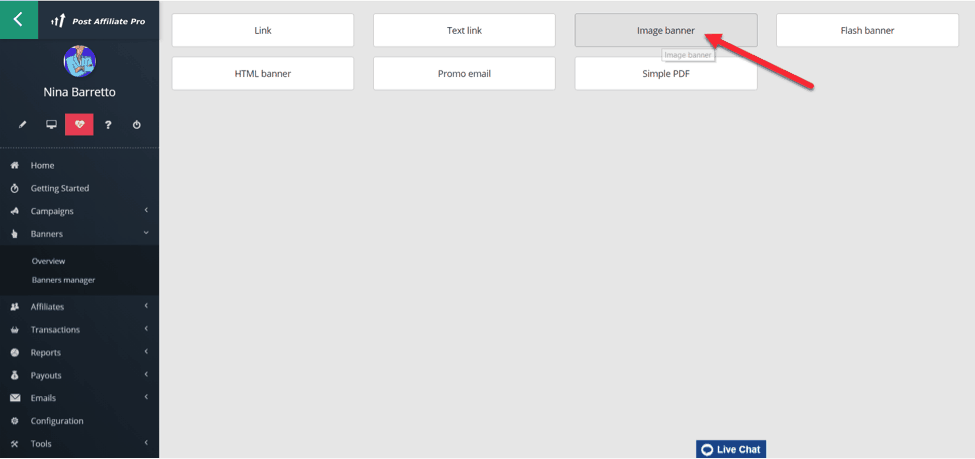 Fill out the General Banner Information and Banner Parameters then click on create.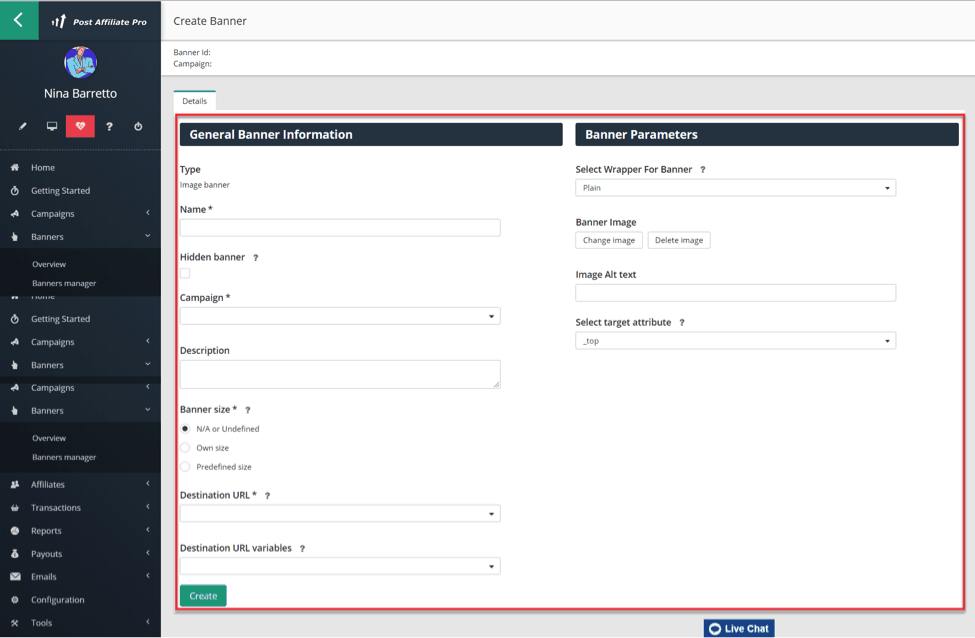 On Banners Overview you'd be able to see the banner statistics.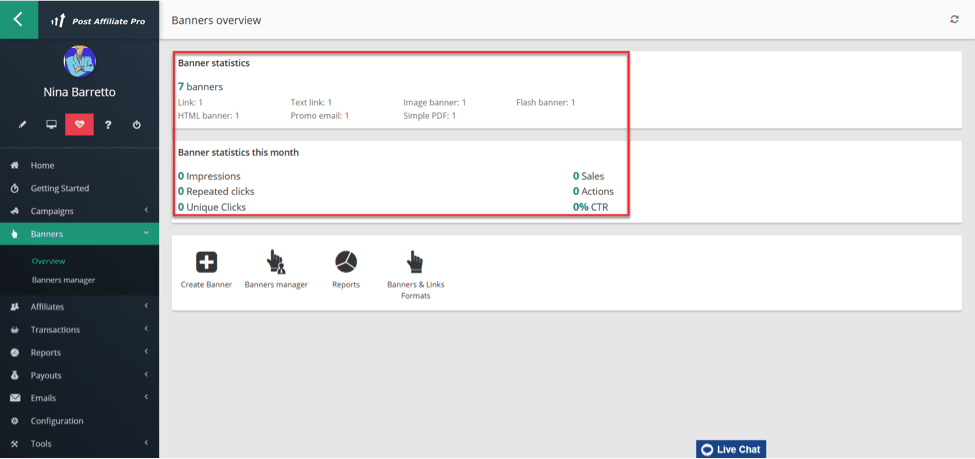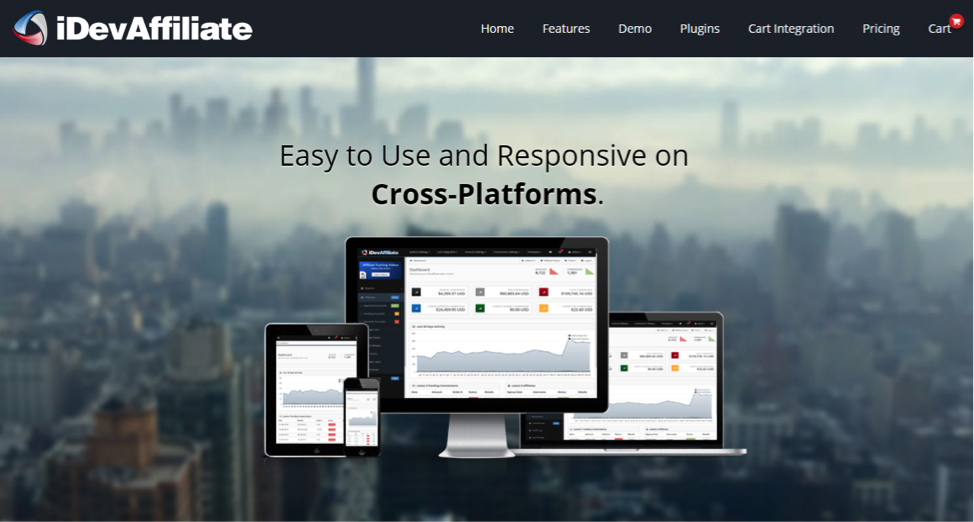 iDevAffiliate program is used by a lot of businesses to track their affiliate program as well as manage commissions their affiliates would get from doing their end of the deal. This software allows you to manage payout structure and commissions effectively. This software has a lot of different features that would help you grow your business such as reports, marketing templates, shopping carts, payout structures, and others more. They also offer monthly video trainings for your affiliate to enhance their knowledge. This software allows you to be flexible by having good features, technical support and stability at a friendly price.
How to promote using banners
From your admin dashboard click on Marketing Materials.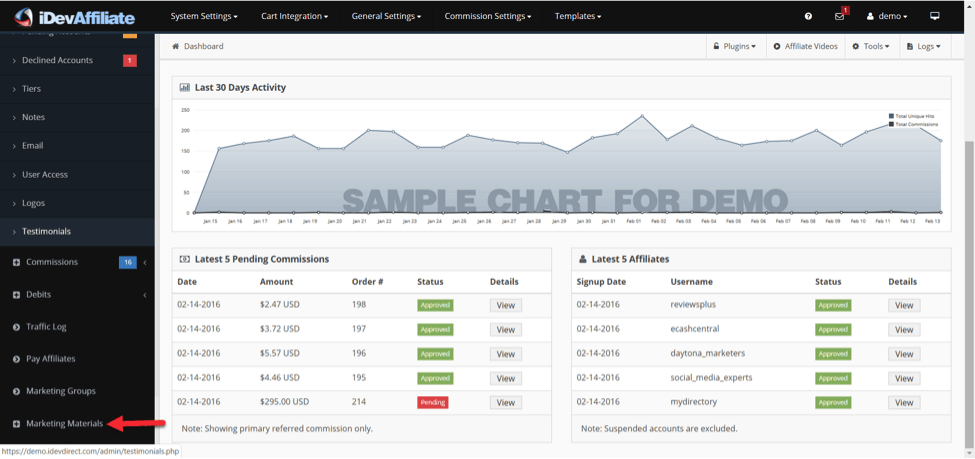 Then, click on Banners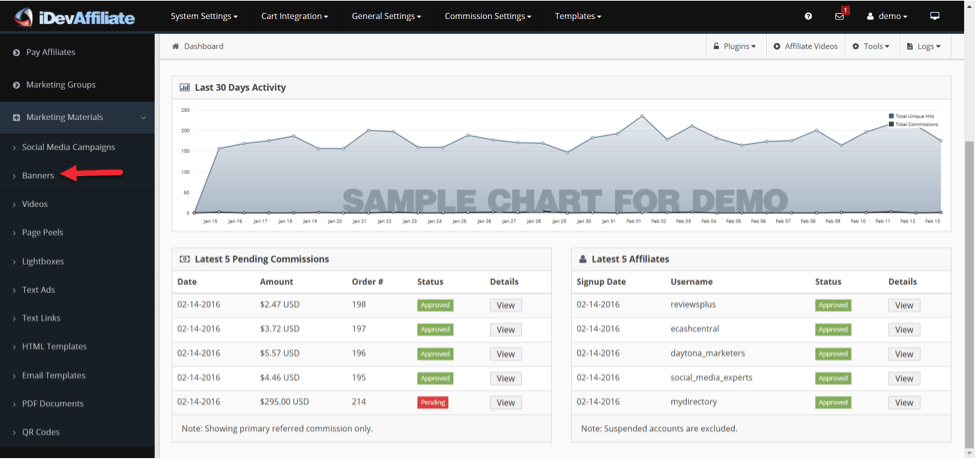 Fill up the needed information and upload a banner. Click on Add Banner once you're done.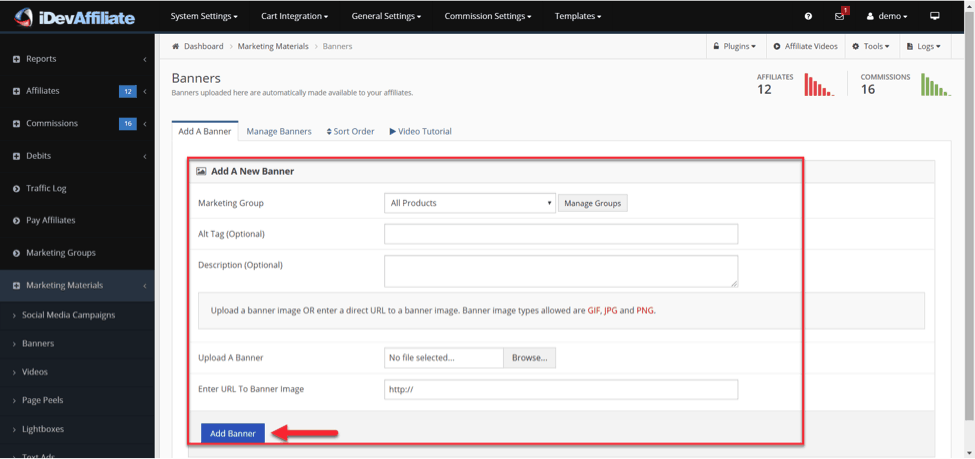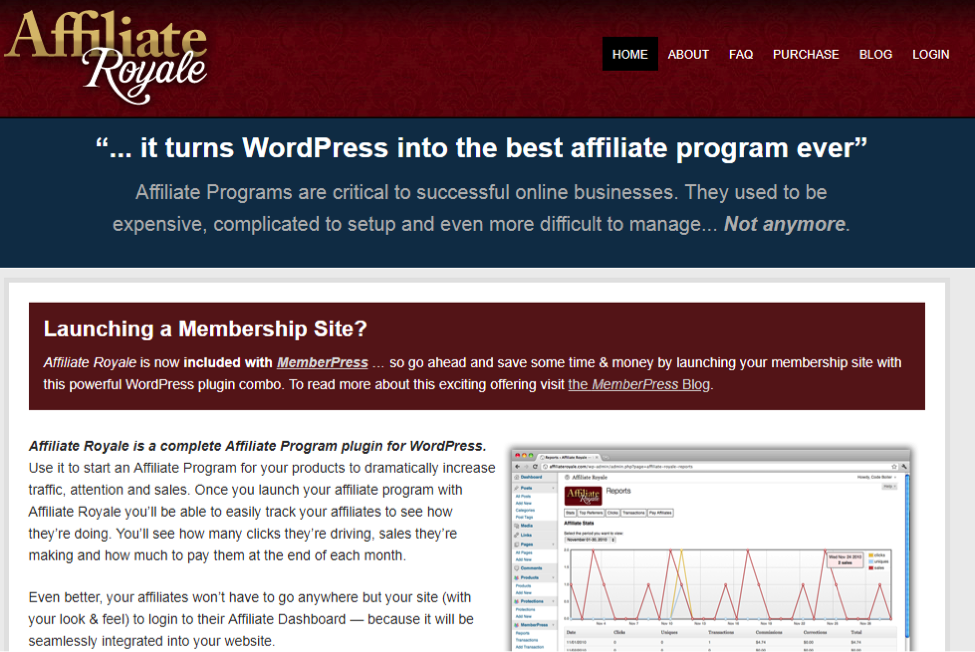 Affiliate Royale is used by online and ecommerce stores for managing and tracking. When you install this software, you won't have any difficulty because the process is basic and the same with all the other regular referral software. This is somehow different from the rest because it doesn't have monthly fees, instead of paying every month, you pay for this software one time and then you can add more stores to it. This software also allows you to do the managing and tracking easier, it allows you to fulfill multiple tasks from a single window so you won't have to switch tabs.
If you are in need of an affiliate software, LinkTrust is worth checking out. It's not just an affiliate software, it's a lead generation software too. A lot of businesses use LinkTrust  to track and optimize their affiliate campaign. It also delivers real time reports that would help you make better business decisions. LinkTrust is the perfect one for you if you need an easy, seamless, and effective affiliate program. The APIs of this software allows you to work with other software that you would need. this is an easy to use software that has their CRMs, data, analytics, and other information right on the dashboard.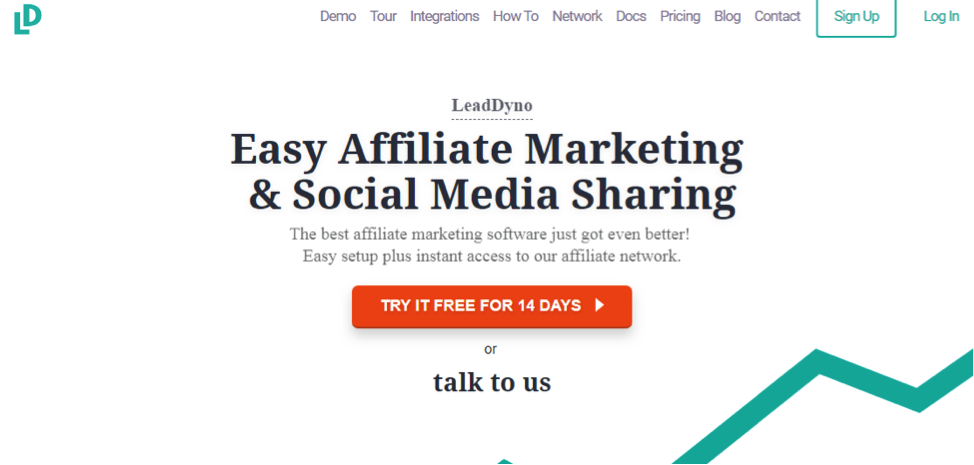 LeadDyno allows you to track where your leads come from without any trouble. It's also used by many for recruiting their affiliates. It comes with a social sharing button that would allow your affiliates to have an easy time sharing your business to their social media channels. When you sign up for this software, you would be able to customize your sign up page to make sure that you could make the theme more business-like. When you have new affiliates, a welcome email would be sent to them with everything they would need to get started.