Best Affiliate Software For WooCommerce
http://www.osiaffiliate.com/
OSI Affiliate software can cater for large businesses as well as startups. They also help organizations, businessmen, and entrepreneurs increase their sales and customer base through affiliate marketing. When you choose this software to help you build your affiliate program, it doesn't matter if you're a beginner because their interface is easy to understand, and if you're an expert looking for something better, this software would fit you because it has features most high end expensive software have but at a lower price. So, if you need something inexpensive but has more high quality features than the normal, this one would make you happy. OSI Affiliate is also integrated with a lot of different platforms that are relevant for growing your customer base and increasing sales, and they also show you the value of your existing customers which would allow you to start your referral program the moment you sign up with them.
Now, when you invite people to sign up to your referral program they won't have a hard time because all they have to do is enter their Email address. Sharing to social media channels is also possible with OSI Affiliate Software. OSI Affiliate software would definitely help you save time because it allows you to automate a lot of recurring tasks and it automatically tracks successful sales for you. They also allow you to set up the payout system and commission details so you won't have to worry about that too. When it comes to rewarding your affiliates, you have different options to choose from, you could reward them through commissions, discounts, coupons, and if you want to re-motivate them OSI Affiliate Software has a contest manager as one of its features. They do everything to make affiliate marketing easier for you because they aim to help you reach your goal hassle free.
How to Manually Add a Commission:
From your admin dashboard click on Rewards.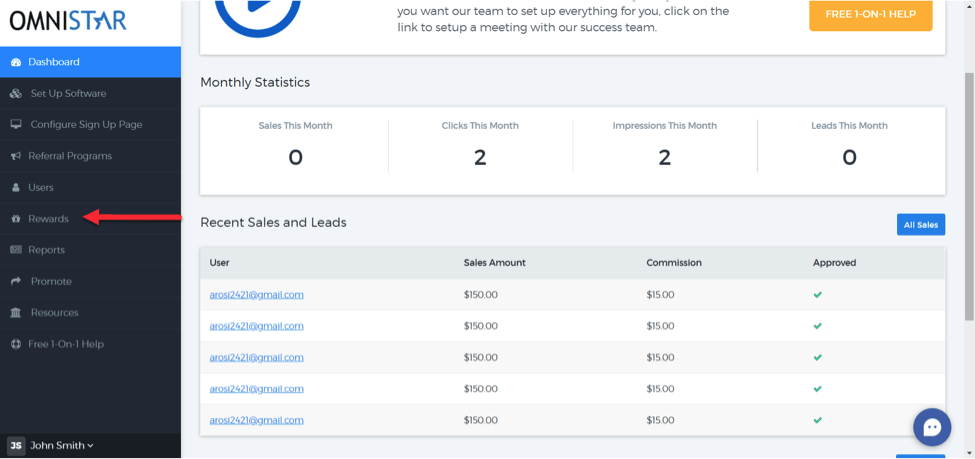 Then click on +Add Sale Record.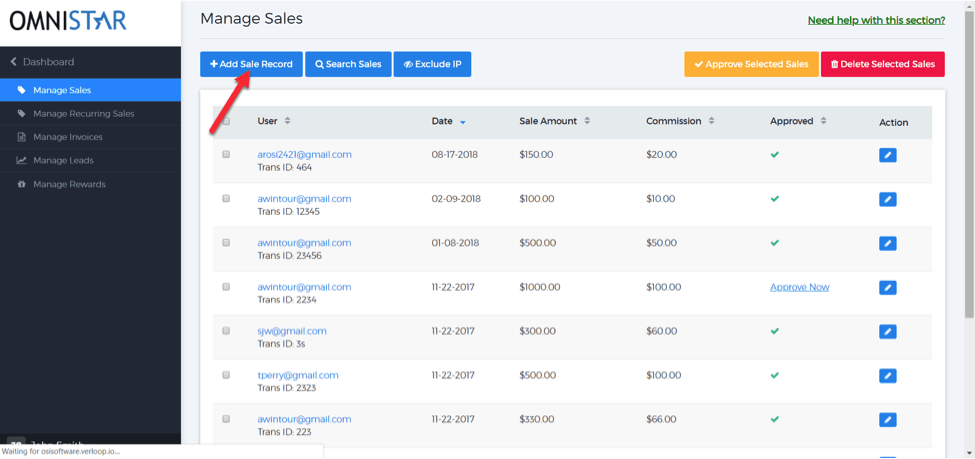 Fill out the form by choosing which affiliate program, choose the referral program, add the sale amount, commission amount, and all the other needed information you want to make sure you have saved for future reference. Once you're done filling up the form click on Submit.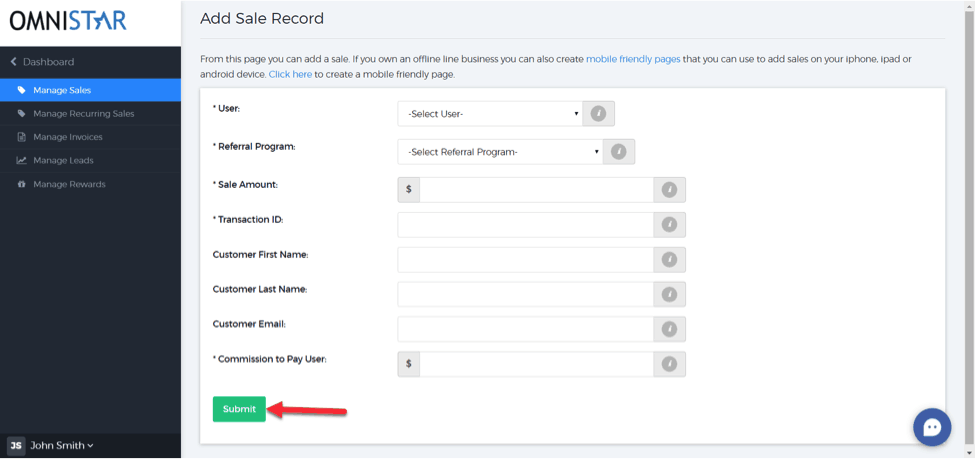 http://www.postaffiliatepro.com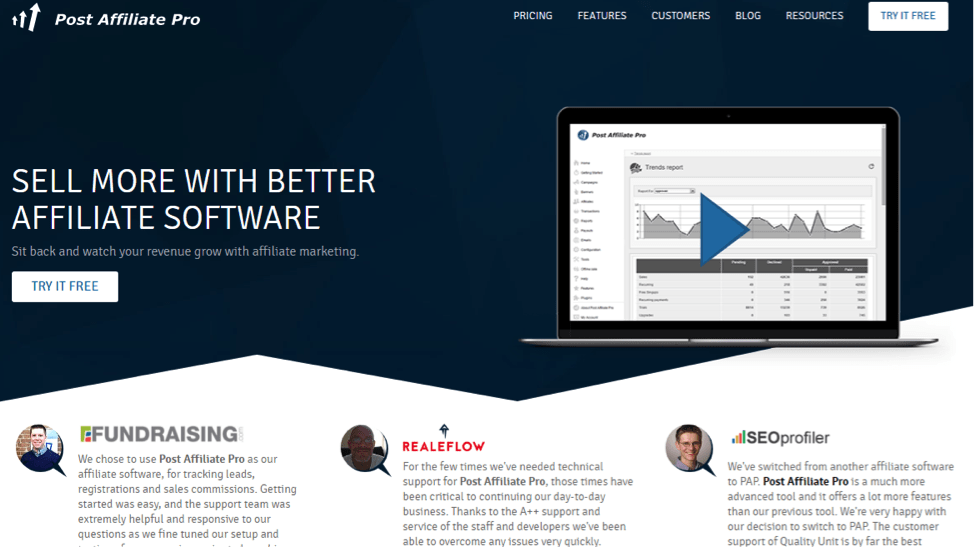 Post Affiliate Pro is used by a lot of online stores and e-commerce stores for tracking and monitoring their affiliate program. Different businesses with online services are using this affiliate software to reach more customers and increase sales. This software allows businessmen and entrepreneurs to manage their affiliate program easily and gives them access to different tools, features and integrations. As the numbers of your affiliates increase, it could get difficult to manage things, good thing Post Affiliate Pro helps you in tracking and monitoring everything from the successful sales to the payouts. The only time the payouts would be released is when the purchase is successful in order to avoid fraud.
How to Manually Add Commissions:
It's really easy to add commissions manually, all you have to do is:

From your Dashboard click on Transactions then click on Commissions.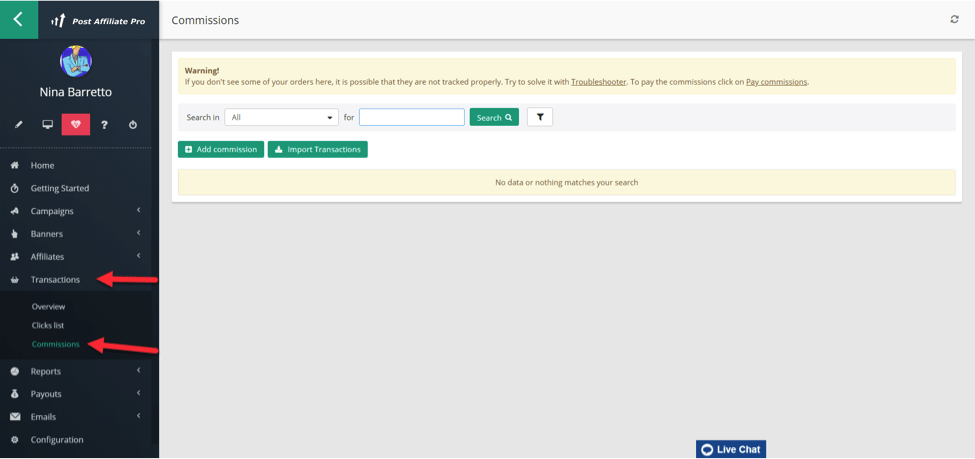 Fill out the form with the needed information relating to the sale where the commission was from, affiliate name and campaign the affiliate is on and scroll down to save.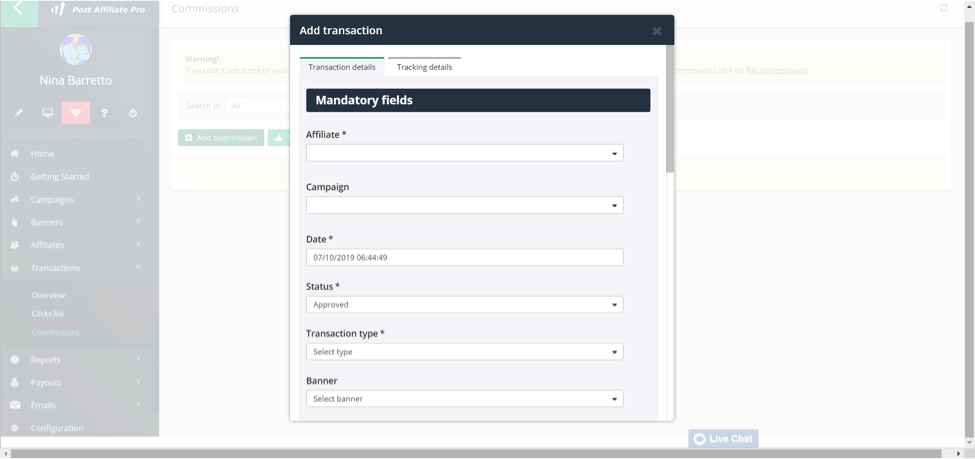 https://www.idevdirect.com/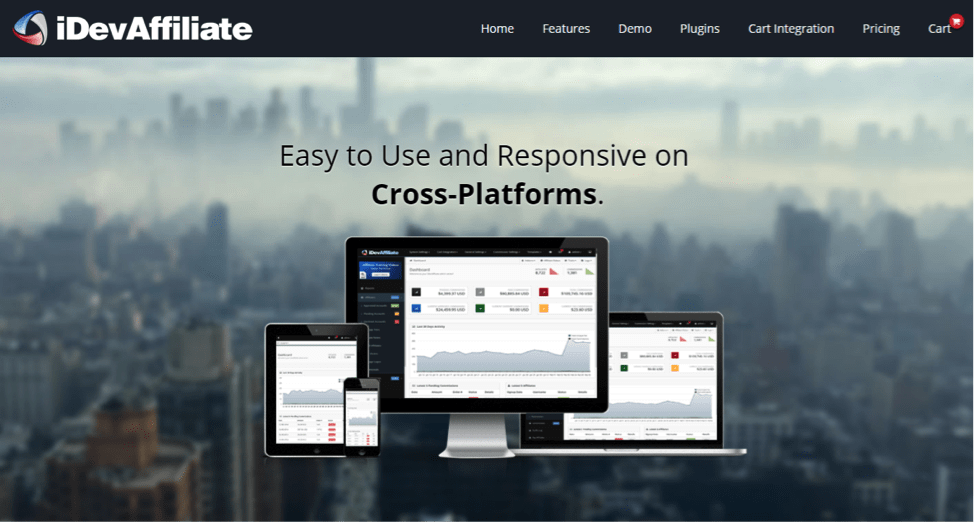 iDevAffiliate is developed for tracking affiliates and managing their commissions. Managing the payout structure and commissions is easier and more effective with iDevAffiliate. This software has a lot of features like reports, payouts, marketing templates, billing, shopping carts, and others. You can also set your payouts and commissions into percentage based, PPC, recurring, PPA, or even set a flat rate if that's more convenient for you. For pay out levels you could set 10 tiers or a hundred primaries. For affiliates they offer monthly training in order to teach them how to generate more revenue. This software could be either cloud based or license based depending on what you need.
How to Manually Add Commissions:
From your admin dashboard click on Commissions.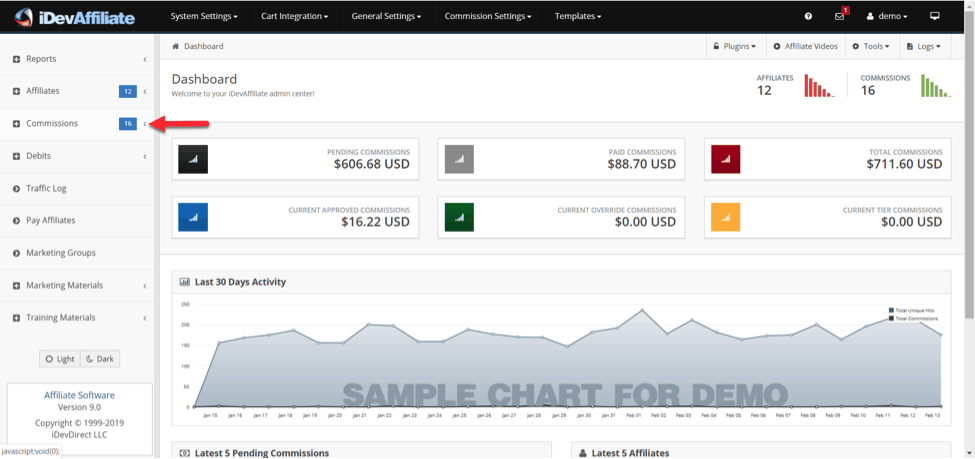 Then, click on Add A Commission.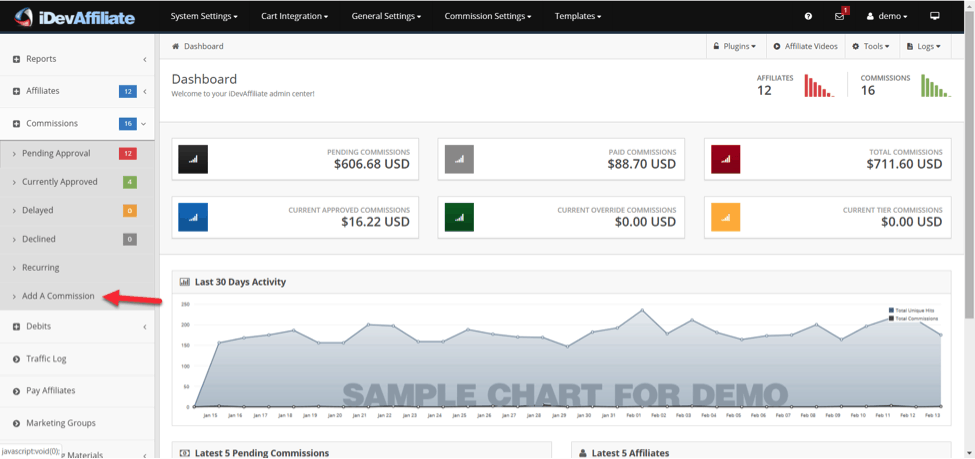 Fill out the form with the commission date, which affiliate it would be for, amount of the commission, the sale amount, the order number and then click on create a commission.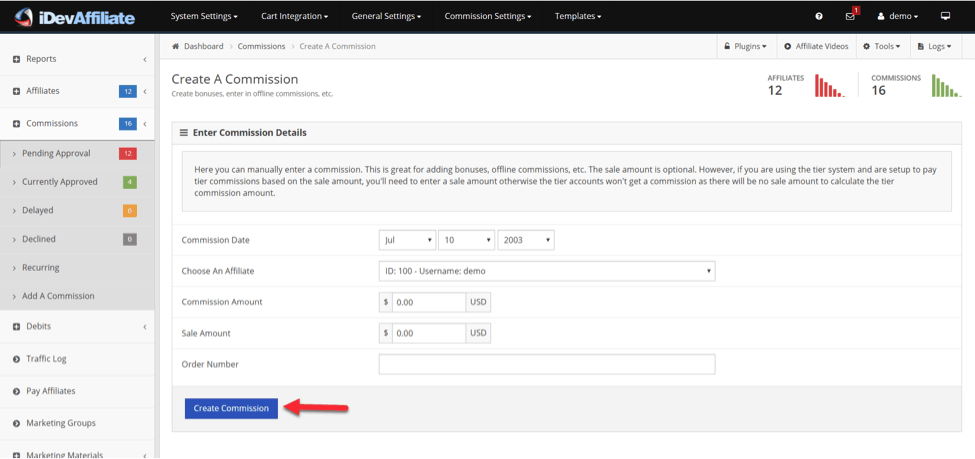 https://www.affiliateroyale.com/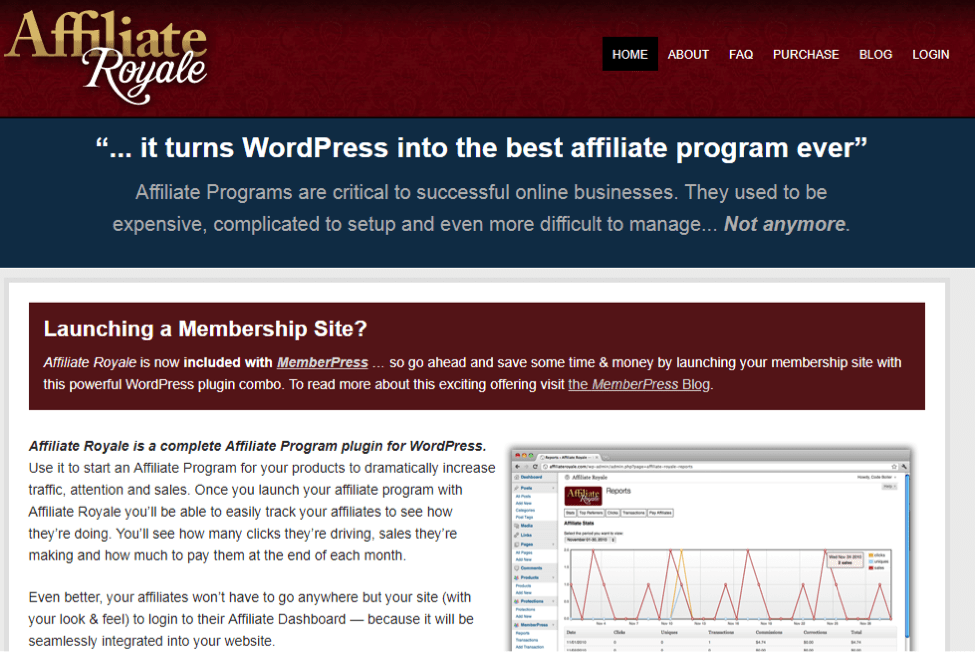 Affiliate Royale is an affiliate tracking and management software used by many businesses online. Installing their solution is very easy and quick, even a newbie would be able to do it. What makes this software unique is that there's no need for monthly or annual fees because you only pay once. This software could be used by multiple e-commerce stores and it's very effective in managing everything that has to do with affiliate programs and payouts. You could do a lot of tasks in a single window which makes you save time instead of having to switch from one window to another just to multi-task. Installation of this software is simply done by downloading and extracting it.
http://linktrust.com/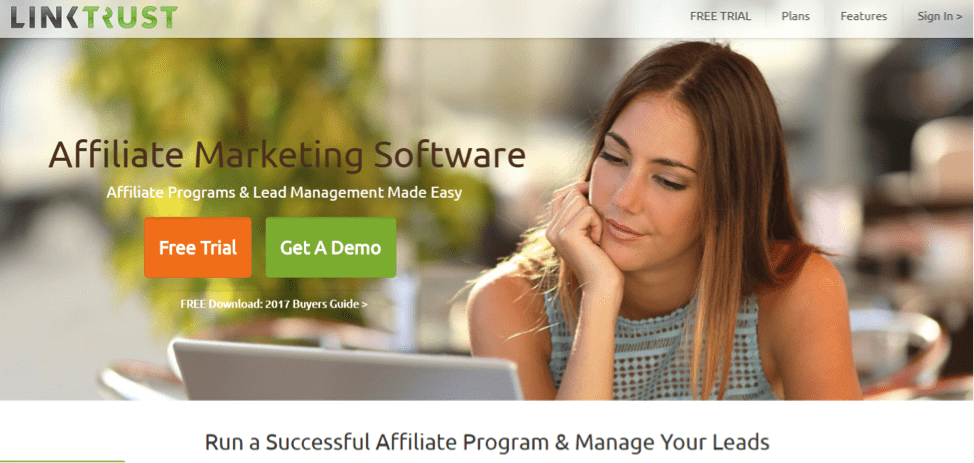 LinkTrust is not just an affiliate program but a lead generation software as well. They provide their users with real time reporting and analytics that could be used for business decisions while helping them track and optimize their marketing campaigns. A lot of different type of businesses such as Ad agencies, Marketing firms, Advertisers, e-Commerce sites, and networks are utilizing digital technology in order to track ads, calls, leads, sales, affiliates, and also networks. With this software, creating as well as managing an affiliate program is seamless, effective, and easy. LinkTrust will be helping you out as you design, run, and manage your affiliate program. This lead generation and affiliate program is capable of many things because it's loaded with different features you would need to increase customer base and sales.
LinkTrust is also integrated with a lot of business related applications and systems. Their robust APIs would let you work with different types of software. Their interface is also simple and easy with all the information you would be needing right in the dashboard. From CRMs, Google analytics, financials, whatever you need is easy to find in this software.
https://www.leaddyno.com/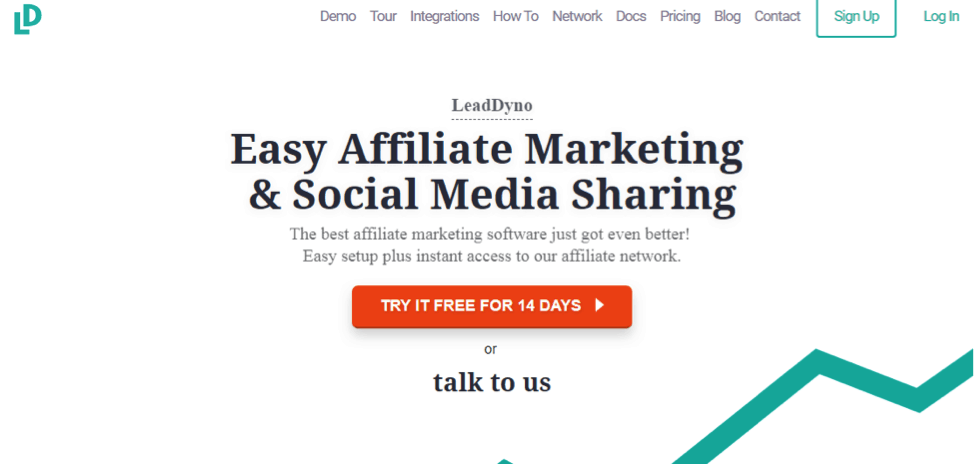 If you need trouble free affiliate program operations, an automated system like LeadDyno is what you need because it allows you to track and see where your leads are from. LeadDyno aslo does a great job in helping affiliates reach their goals by allowing shares on social media channels. In this software, you pay your affiliates commissions, so if they don't bring any sale to your business then they don't get a commission. With this software, you could get started right away because the moment you finish signing up you can start creating your sign up page and customize it to make it look more professional. Your sign up page would be hosted by LeadDyno at yourdomainname.leaddyno.com. Welcome emails are also automatically sent to your new members so make sure you customize it because the more personalized it looks the better.
WooCommerce Amazon Affiliates – WordPress Plugin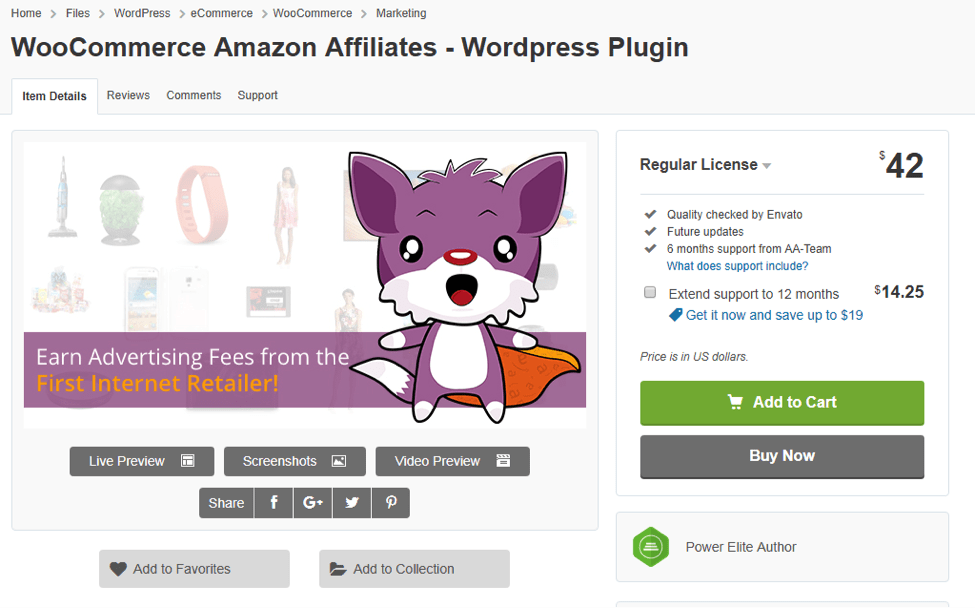 WooCommerce Amazon Affiliates is a WordPress plugin for WooCommerce. This software allows you to boost your sales by promoting products from amazon on your online store. All you need to do is login into your Amazon associates program, and then you would be receiving an affiliate ID. Amazon is the first retailer online and has a very wide reach, having your store connected to amazon definitely allows you to reach more customers. Their new feature allows you to verify whether a product is on Amazon or not.
YITH WooCommerce Affiliates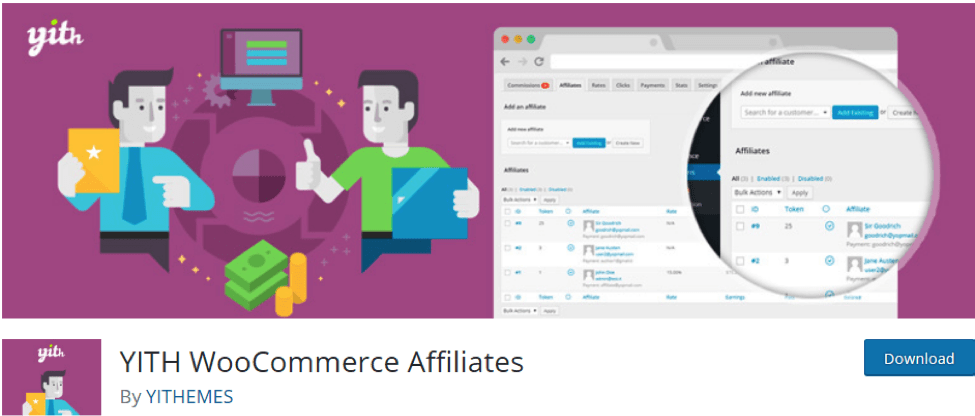 Yith WooCommerce is a free affiliate plugin for woocommerce. It allows you to make affiliate profiles, run, manage, and release payouts to your affiliates. Payouts would be released after successful purchases from their links. It's very simple: when you receive a visitor in your store and they have a reference ID, the plugin would be saving it, if it turns into a successful sale your affiliate with the unique link would be earning their commission. When a user is registered to your site, you could make them new affiliates so it's possible for your customers to be part of your affiliate program.
Magic Affiliate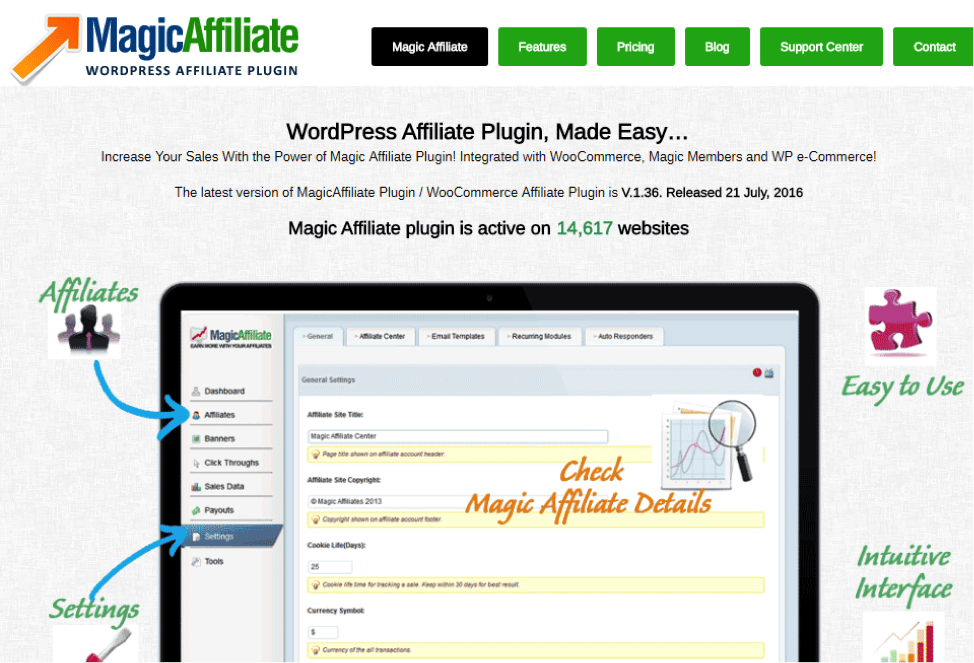 Magic Affiliate is perfect for people who are interested in expanding their business with the help of affiliate marketing. It's integrated with different platforms such as AutoResponders, MailChimp, Constant Contact, iContact, Aweber and GetResponce. With this software the power of WooCommerce and WP e-commerce could all be combined. This affiliate program allows you to earn more, have more conversions, without having to work so hard.
Tapfiliate WooCommerce Affiliate Program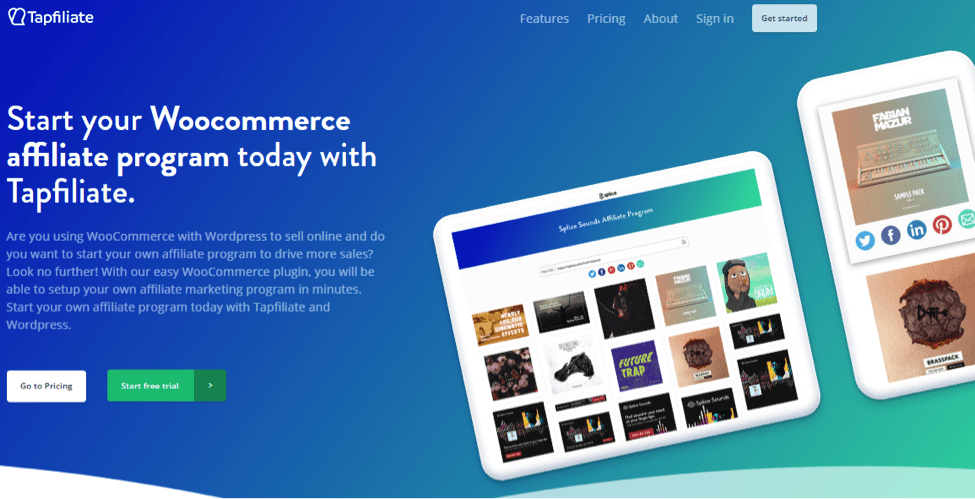 Tapfiliate allows you to easily set up your own affiliate program in just a few minutes. They're integrated with a lot of different software as well as shopping carts such as CampWire, WooCommerce, WordPress, WP easycart, PrestaShop, and Shopify to make it all easier for you. Tapfiliate allows you to create customized commissions and automated payouts. They also allow you to be flexible when it comes to incentivizing your affiliate because they understand that every business is different and have different needs.