LeadDyno Vs. OSI Affiliate
OSI Affiliate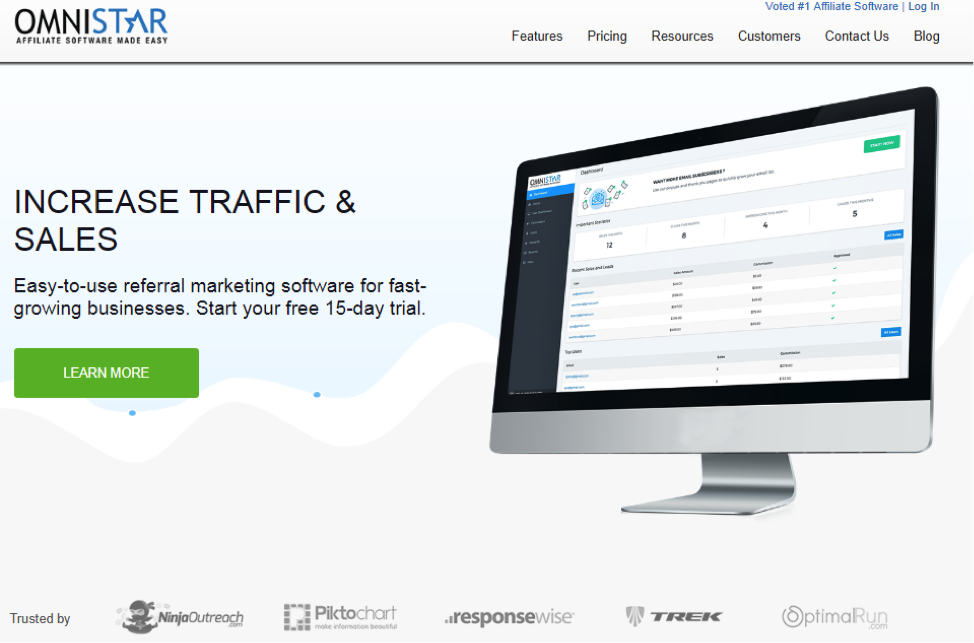 OSI Affiliate is used even by organizations from setting up to managing their referral program as well as for boosting their customer base.
Key Features:
They Have Affiliate management.

They Have Commission calculations.

They Have Dashboard statistics.

They Also Have Email templates Available.

They Have a Feedback management Feature.

They Offer commission as well as rewards to referral partners.

Your Referral partners can access their own portals.

Referral tracking is Made Easier.

There's Reporting.

You Have The Ability to Run Referral Contests

You Can Setup Your Own Signup Page

Social media integration is availbale
Why do people choose OSI?
People choose OSI Affiliate because getting referrals from social media was made possible and easier. Customers can promote your business directly on their social media channels, aside from having a wider reach, it becomes more like a recommendation which people would more likely trust over ads.
With OSI Affiliate you could also create contests for your affiliates to make them more motivated. Aside from motivation, it will surely drive you more sales because of the competition, just make sure to reward whoever would win.
Giving discounts and coupons is also possible with OSI Affiliate, you customers could use them to refer your business. Whenever a person signs up with the coupon it would automatically give tham a discount while the partner would get the commission.
Introduction
OSI Affiliate is for businesses of all sizes. Any type of company could use OSI affiliate in setting up and managing their referral program in order to drive more traffic and sales. Both beginners and experts would benefit from using this software. Companies that use this realize how great their existing customers are for their marketing and reaching more people. With OSI Affiliate, you have everything you would need in order to manage and run a referral program, there's no need to download anything.
Customers and visitors of the website could simply signup by typing in their email address. They could also share their business profile on social media platforms like Facebook, LinkedIn, Twitter and others more. Whenever there are successful sales that are sent by referral partners OSI can automatically track them. Companies that use OSI Affiliate have the choice on rewarding their referral partners, they could choose from paid commissions, gift cards, and others. The Admins have the ability to see the click stats and sales, as well as the invoices for commissions through the admin dashboard. The referral partners could track what they've been earning through their real-time stats from their own dashboard.
FAQs
Who uses OSI?
A lot of companies use OSI they come from small businesses, Large ones, Medium sized, and even freelancers.
What are their integrations?
They're integrated with LeadPages, Bigcommerce, Shopify, WooCommerce, WordPress, PayPal, Wufoo, LiveChat and so many others more.
LeadDyno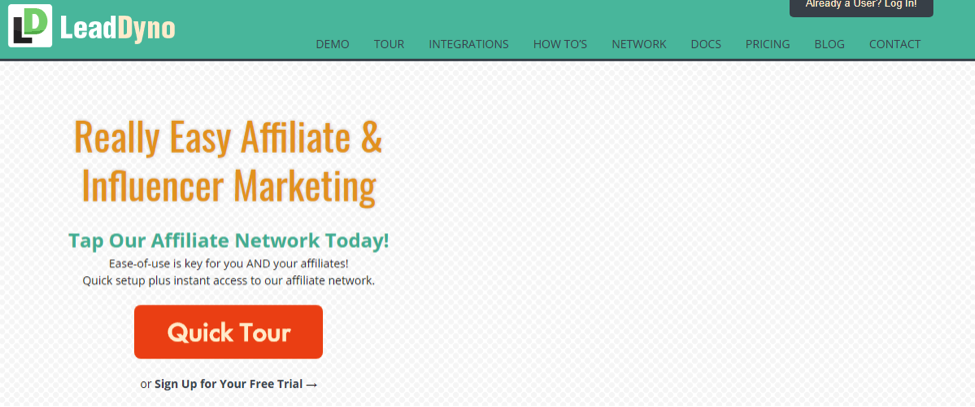 This software offers it's user an automatic system for operating a referral program, as well as a trouble free tracker to see where the leads are coming from.
Key features
One Click to share to social media

Affiliate tracking with Bigcommerce

Affiliate  tracking with Chargify

Affiliate tracking with Fusionsoft

Commissions are paid via PayPal automatically

You have your own affiliate profile to recruit affiliates.

You can send welcome emails

Easy setup for your affiliate program
Why do people choose LeadDyno?
People choose LeadDyno because they have their own signup page right after signing up for LeadDyno, it's hosted for you at yourdamainname.leaddyno.com. This page could be customized, you can add your logo, change the colors, etc. You also have an automated email for people who signup to your program. This email is also loaded with all of the information they need to know in order to start immediately. Their dashboard's link as well as the unique referral link is already included in that email. In their dashboard, they will see everything they need including the website and products. And sharing via Social media is made easy with just one click.
Introduction
LeadDyno works on any website. Their affiliate program is very profitable because affiliates receive commissions as pay, meaning if they have brought you no sales they don't get paid either. LeadDyno could be used to recruit affiliates, help them promote, and share on social media. They track from where their leads are from so it's trouble free and could work automatically.
FAQs
What are integrations available for LeadDyno?
The integrations available for LeadDyno are, Shopify, Bigcommerce, PayPal, Stripe, Chargify, Infusionsoft, Squarespace, Recurly, and some other more.
Conclusion
By this time, you could see that OSI Affiliate has more to give compared to LeadDyno. Yes, there are different types of businesses but OSI Affiliates could cater to more and gives you more option, and that make;s OSI Affiliate the best for us. But don't get me wrong, they both are very good software that would give profit to their users. Get more info about Best Shopify Affiliate Apps.