OSI Affiliate Software vs Go Aff Pro vs Referral Rock (Updated Oct 2023)
There are a few big names when it comes to affiliate software programs. Goaffpro, Referral Rock, and OSI Affiliate Software are well-known programs with tons of features. But which one is the best for your business? In this comparison, we'll look at each program and see how they compare.
OSI Affiliate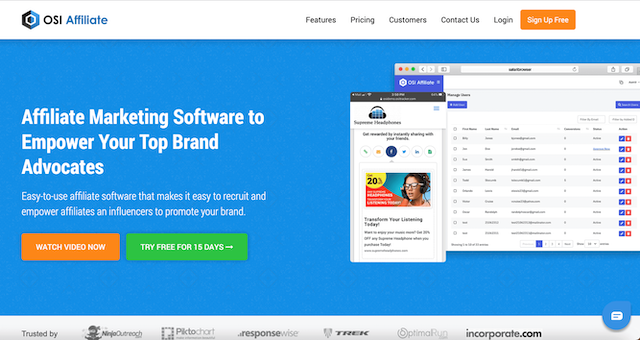 OSI Affiliate is an affiliate marketing company that connects advertisers with publishers to deliver quality leads and traffic. Publishers can sign up for free and display ad units on their websites or blogs. Advertisers only pay when information or sale is generated.
Affiliate marketing is a performance-based marketing model in which advertisers reward affiliates for each lead or sale they generate. Because affiliate marketing is based on results, it's an effective way to reach your target audience without breaking the bank. With OSI Affiliate, you can choose from various creative ad units and only pay when someone clicks on your ad — meaning you only pay for results!
OSI Affiliate Usage
When it comes to affiliate marketing, the OSI Affiliate platform is one of the most popular and widely used options. As an all-in-one solution, OSI Affiliate provides everything you need to start and manage your affiliate program, including a robust tracking system, native integrations with various third-party platforms, and a wide range of powerful marketing tools.
With OSI Affiliate, you can easily track clicks, conversions, and commissions in real-time. The platform also lets you create customized tracking links for each affiliate, so you can accurately track where your traffic is coming from. Additionally, OSI Affiliate offers detailed reporting to see how your affiliate program is performing.
Using OSI Affiliate For Affiliate Marketing
There are many ways to use OSI Affiliate for affiliate marketing. The first thing you need to do is sign up for an account with them. Once you have done this, you will be able to log in and access their various features. One of the most important things to consider when using this platform is tracking your activity and monitoring your conversions. This will help you determine which strategies are working and which ones need improvement.
Another great feature of OSI Affiliates is their ability to provide detailed reports on your activity. This includes information on impressions, clicks, sales, and more. This data can be beneficial in fine-tuning your marketing efforts.
Using OSI Affiliates For Referral Marketing
If you're looking to start referral marketing, the OSI affiliate program is a great place to start. Here's a quick overview of how it works:
Here's how it works:
You sign up for an account and get a unique referral code.
You share your referral code with friends, family, or anyone you think might be interested in signing up.
When someone uses your referral code to sign up for OSI Affiliate, they'll get $10 off their first purchase.
For every person that signs up using your referral code, you'll earn a commission on their purchase.
Advantages of OSI Affiliate
A few key advantages to OSI Affiliate make it an excellent option for affiliate marketing:
It has a robust suite of tools and features that make it easy to track conversions and manage your campaigns.
The platform is very user-friendly, so you'll be able to get up and running quickly even if you're not tech-savvy.
OSI Affiliate offers competitive payouts, which means you can earn more money with this program than other programs.
Disadvantages of OSI Affiliate
There are several potential disadvantages of OSI Affiliate:
It cannot be easy to attract high-quality affiliates.
There is a risk that affiliates will promote competing products or services.
There is a risk that companions will stop working with a business if they are not making enough money.
Go Aff Pro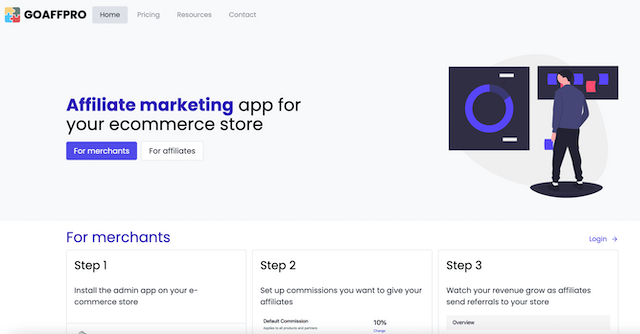 ‍Go Aff Pro is an affiliate marketing platform that enables marketers to promote products and services on a pay-per-sale basis. Marketers can earn a commission on sales they generate without investing in advertising or other costs. Go Aff Pro offers a wide range of features and tools that make it easy for marketers to find and track their affiliate links, manage commissions, and get paid.
Go Aff Pro Usage
In affiliate marketing, Go Aff Pro creates tracking links for affiliate products. When a customer clicks on one of these links and makes a purchase, the affiliate earns a commission. Commission rates vary from product to product but Go Aff Pro offers some of the highest rates in the industry. In addition to generating tracking links, Go Aff Pro also provides tools and resources to help affiliates maximize their earnings. For example, they offer training on how to promote affiliate products and support in finding high-converting offers effectively. Additionally, Go Aff Pro has a members-only forum where affiliates can network and share tips and tricks.
Using Go Aff Pro For Affiliate Marketing
Using Go Aff Pro for affiliate marketing is simple. You can sign up as an affiliate at no cost and then select the products or services you want to promote. Once you've chosen the products or items you wish to promote, you'll be given a unique link or coupon code to share with your audiences. When someone clicks on your link and makes a purchase, you'll earn a commission on the sale. It's that easy!
Using Go Aff Pro For Referral marketing
Go Aff Pro is an excellent tool for referral marketing. You can use it to create some fantastic referral marketing campaigns that will help you boost your business. Here are some tips on using Go Aff Pro for referral marketing.
Firstly, you need to create an account with Go Aff Pro and log in.
Once you are logged in, you will be able to see all the features that Go Aff Pro offers. You can use these features to create some fantastic referral marketing campaigns.
The first thing you need to do is create a campaign. To do this, click on the "Create Campaign" button and then fill out the form.
Advantages of Go Aff Pro
There are numerous advantages of signing up for Go Aff Pro, an affiliate marketing program. As an affiliate marketing program, Go Aff Pro enables users to earn a commission by referring sales to the company. The advantages of being a member of GoAffPro include:
The ability to direct sales and earn a commission off of them
A variety of marketing tools and resources at your disposal, including creative banners, text links, and mailers
Dedicated support from account managers
Customized solutions to help you maximize your revenue potential
The most significant advantage that GoAffPro offers is that it is a performance-based network.
Disadvantages of Go Aff Pro
You should be aware of a few disadvantages of using the Go Aff Pro affiliate marketing program. First and foremost, it is essential to note that this program is designed for experienced internet marketers. If you do not have experience with online marketing, then this program may not be the best fit for you. Additionally, the Go Aff Pro affiliate marketing program has a bit of a learning curve. While the training materials provided are excellent, it can still take some time to learn how to use and navigate the system properly.
Another potential drawback of using Go Aff Pro is that it requires an investment of time and effort to start seeing results.
Referral Rock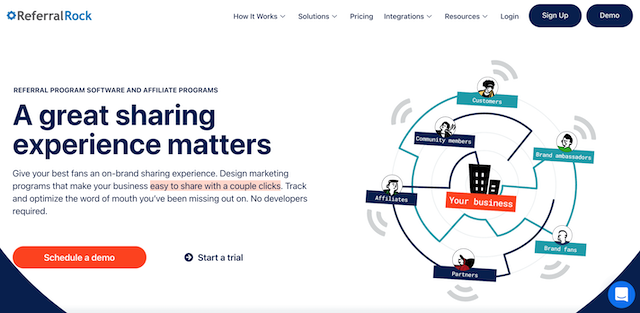 ‍Referral Rock is a software company that provides tools to manage referral programs. Its software helps companies track referrals, automate payments, and measure results. The company also offers consulting services to help companies set up and run their referral programs.
Referral Rock Usage
Referral Rock is used to help businesses track and manage their referral marketing campaigns. It allows companies to create custom referral programs, track each referral's progress, reward their customers for referrals, and more.
Referral Rock is a great way to incentivize customers to refer their friends and family members. When someone refers a new customer, they are rewarded with points that can be redeemed for rewards like gift cards, merchandise, and more. This helps businesses create a strong word-of-mouth marketing campaign that can help them grow their business quickly and easily.
Using Referral Rock For Affiliate Marketing
There are a few different ways to use Referral Rock for affiliate marketing. First, you can sign up for their Affiliate Program, which allows you to earn a commission on everyone who signs up for Referral Rock through your unique link.
Second, you can create your referral program through Referral Rock. This is a great way to get people to promote your product or service in exchange for a commission or discount.
Finally, you can use Referral Rock's sharing tools to share your referral links on social media or email. This is a great way to get more exposure for your referral program and increase conversions.
Using Referral Rock For Referral Marketing
Referral Rock is a software platform that helps businesses manage and reward customers for referrals. It's an excellent tool for referral marketing, which encourages current customers to refer new ones.
There are a few key ways to use Referral Rock for referral marketing:
Set up a rewards program to give customers incentives for referrals.
Use referral tracking links to track how many new customers are referred by each customer.
Create custom reward codes to track who referred each new customer.
Display referral badges on your website and email campaigns to encourage word-of-mouth promotion.
Advantages of Referral Rock
There are a few key advantages to Referral Rock compared to other affiliate marketing platforms. First, Referral Rock allows you to track clicks, conversions and leads generated from yourReferral partners. In addition, their software makes it easy to see which partners are generating the most traffic and conversion activity so you can focus your time and energy on those relationships. Additionally, they provide several features designed to help you grow your referral bases, such as customizable email templates, social media integration, and challenge functions that allow you to Reward top-performing partners. Overall, Referral Rock is an excellent option if you're looking for a comprehensive solution that will give you insights into your referral marketing program's performance.
Disadvantages of Referral Rock
One disadvantage of Referral Rock is that it can be challenging to track how well your referrals perform. Unlike some other affiliate marketing programs, there is no way to see how many people have clicked on your referral link or made a purchase through it. This can make it hard to determine whether or not your marketing efforts are practical.
Another disadvantage of Referral Rock is that the program does not offer as many options for earning rewards as some other programs do. You can only earn rewards by referring new customers, and you cannot earn rewards for sales generated by your customers. This can limit the amount of money you can earn through the program.
It's been a long, arduous journey to find the perfect affiliate software for my business. I'm glad I finally did, and it was worth the wait! If you are in the market for an affiliate software, check out these three options and see which one is best for you. Comment below if you have any questions about my experience with these platforms or if you want me to compare any other programs. Thanks for reading!